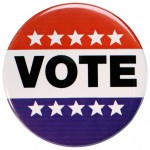 No School in Medford on Election Day
– Allison Goldsberry
An election is taking place on Tuesday, November 4 for several statewide positions, including Governor.
Polls open at 7AM and close at 8PM. Since Medford's schools are used as polls, school will be closed on Tuesday.
A listing of Medford's polling locations is available on the city website.
Not sure which poll is yours? Enter your address here to find out and to view a sample ballot.
The following is a list of candidates competing; incumbents are marked with an asterisk*.
Governor and Lieutenant Governor
Republicans: Charlie Baker and Karyn Polito
Democrats: Martha Coakley and Steve Kerrigan
United Independent Party: Evan Falchuk and Angus Jennings
Independent: Scott Lively and Shelly Saunders
Independent: Jeffrey McCormick and Tracy Post
Senator
Democrat: Ed Markey*
Republican: Brian Herr
Attorney General
Democrat: Maura Healey
Republican: John Miller
Secretary of State
Democrat: William Galvin*
Republican: David D'Arcangelo
Green-Rainbow: Daniel Factor
Treasurer
Democrat: Deb Goldberg
Republican: Michael Heffernan
Green-Rainbow: Ian Jackson
Auditor
Democrat: Suzanne Bump*
Republican: Patricia Saint Aubin
Green-Rainbow: MK Merelice
Congressional Representative
Democrat: Katherine Clark*
Republican: None
Governor's Councilor
Democrat: Terrence Kennedy*
Republican: Vincent Dixon
State Senator
Democrat: Pat Jehlen*
Republican: Robert Cappucci
State Representative
This seat depends upon a voter's district; Medford has three different representatives
Democrats: Paul Donato* (unopposed), Sean Garballey* (unopposed), Christine Barber
Republican: Joseph Monju (Garballey's opponent)
Independent: Nick Lanzilli (running against Barber for an open seat)
District Attorney
Democrat: Marian Ryan*
Republican: None
Register of Probate
Democrat: Tara DeCristofaro*
Republican: John Lambert
Ballot Questions
There are four ballot questions- click here to read them.