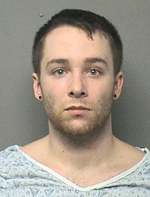 - Allison Goldsberry
Medford Police have arrested a suspect they say is involved in nine armed robberies.
Kevin O'Connell, Jr., 25, of Medford, was arrested Saturday night after another alleged armed robbery at P's Variety, a Central Avenue convenience store police say was robbed "in a similar fashion" earlier in March.
According to police, O'Connell admitted to participating in nine armed robberies, seven in Medford and two in Malden. He will be arraigned in Somerville District Court on Monday.
Police say O'Connell's arrest resulted from increased patrols around area convenience stores. O'Connell was arrested Saturday night shortly after emerging from P's Variety following a brief foot chase with police. He allegedly had a firearm and stolen money on him.