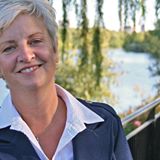 Medford's Director of Budget and Personnel, Stephanie Muccini Burke, publicly announced on Thursday she is resigning from her position to pursue her candidacy for Mayor. Her resignation is effective on May 15. The following is her April 21 resignation letter to outgoing Mayor Michael McGlynn; Burke formally announced on that day her intention to run for Mayor.
"It is with the best interest of the City in mind, that I offer my official resignation from the position of Director of Budget and Personnel, effective May 15, 2015. Due to my pending announcement that I will be a candidate for Mayor of this great city, I would not want the office of Mayor to encounter any appearance of conflict of interest.
I want to personally thank you for the opportunity to serve this city in this capacity. That, combined with my experience as a 16 year veteran of the City Council, has prepared me for this next opportunity.
Regards,
Stephanie M. Burke"
Mayor McGlynn, who is retiring this year after 28 years in office, released the following statement about Burke's resignation:
"I'm grateful for Stephanie's dedicated service to the residents of Medford as Budget and Personnel Director. She has performed her duties in a diligent and professional manner. I offer Stephanie my sincere thanks for her masterful job as Budget Director, for her unwavering attention to duty and faithful service to the residents of our community."
– InsideMedford.com