On Wednesday long-time City Councilor Robert Penta announced his candidacy for Mayor of Medford. So far his former Council colleague, Stephanie Muccini Burke, is the only other formerly declared candidate. Burke recently resigned as Medford's budget director to pursue her mayoral candidacy.
The following statement and photo was submitted by Councilor Penta for publication: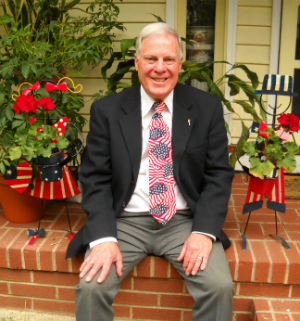 Hello Interested Medford Citizens~
I welcome this opportunity to campaign to be your city mayor. I realize that matters of community concern and my positions need to be addressed for your understanding.
This campaign should not be viewed as a popularity contest but rather a campaign of priorities and how they are to be addressed with community input, transparency, fiscal responsibility and common sense.
I have never shied away from controversy or speaking my mind and this campaign for mayor will be no different.
Educational and Business Background
I am a graduate of the former St. James Grammar School and Medford High School,
While attending college and before entering the world of politics, I was a self-employed food service caterer.
I have received degrees in education, government, business administration and law from Suffolk University, its graduate school and its law school. I also completed a Senior Executive Business Management Program at Harvard University. Currently, I am continuing with post graduate studies at the Fletcher School at Tufts University,
Political Background
My political career began as a State Representative.
Subsequent to that, I worked as a Research Supervisor at the Massachusetts Treasury Department and later at the Massachusetts Department of Revenue as a supervisor and as its' Federal-State Disclosure Officer.
During my many years as an elected Medford city official, I have had the opportunity to serve on many community boards such as:
– Former Community Advisory Board member of the New England Memorial Hospital.
– Current Board of Director of the West Medford Community Center
– Current Board of Director of the Medford Brooks' Estate Land Trust.
– Current Member of the Massachusetts Municipal Association wherein I am a Board of Director and have served on the public employee policy and environmental committees.
This election affords us a new look at how we can utilize our rich history, our arts and culture and our varied natural resources to enhance and create innovative opportunities for Medford's citizens and businesses.
The following represents my initial agenda of issues that I would address as your mayor.
– Simplify parking: Secure the negotiation to terminate the at-present, out of state Republic kiosk (meter) and revenue enhancement program and replace it with an in-house parking enforcement program more easily understood
– Grow Medford businesses: Actively pursue new growth and development in our "Squares" and business community.
– Fix our streets: I would move forward with the city council on a multi-year "Street Recovery Program", that I offered and the council approved, that addresses all city streets as to potholes, curbing, striping, signage and street rehabilitation
– Work closely with the city council for better solutions to our challenges: I would personally attend city council meetings if asked and as needed … something not done (but once) during the past 28 years
– Operate in complete transparency: Support a complete city charter review … something that has not been done for 30 years … something that will afford our Medford citizens a future stake in it's government
I shall not intentionally request or expect any city and or school department employee to contribute or work on my mayoral campaign.
I have always cared deeply about our city, its people and its' future.
With your help, understanding and your vote, our collective efforts can help Medford reach new potentials.
During the ensuing months as this campaign moves forward, I shall be presenting more of my agenda and will seek out and welcome your comments and thoughts … rpenta@hotmail.com.
Respectfully presented … Bob Penta, Medford City Councillor, Candidate for Mayor