The following information was released Thursday afternoon by a Boston communications firm on behalf of Middlesex County Sheriff Peter Koutoujian: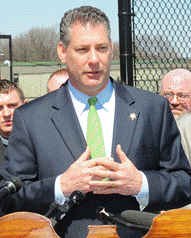 Middlesex County Sheriff Peter J. Koutoujian today announced he has opened a Congressional campaign committee account, the first formal step in a potential run for U.S. Congress in the 5th Congressional District should Congressman Edward Markey win the race for U.S. Senate.
"I have dedicated my life to working on issues important to the people I have been honored to represent as a legislator and now as Sheriff. If given the opportunity, I intend to fight for the people of the 5th Congressional district as their representative in Washington," said Koutoujian. "Throughout my career, I have focused on guaranteeing access to quality, affordable health care, enacting common sense measures to strengthen our economy, ensuring public safety and providing our schools with the tools necessary to allow students to thrive."
Peter Koutoujian has 17 years of experience in elected office. He began his career as a prosecutor before being elected to the Massachusetts House of Representatives representing the communities of Waltham, Watertown and Newton. While in the Legislature, Koutoujian was appointed to various leadership positions throughout his tenure, including as Chairman of the Committees on Healthcare, Public Health and Financial Services.
In 2011, Koutoujian was appointed Sheriff of Middlesex County by Governor Deval Patrick. In November 2012, he ran and was elected in his own right with an overwhelming 77% — winning every one of the 474 precincts in the county.
The new campaign committee, "Koutoujian for Congress," will allow Koutoujian to raise funds on his behalf and to hire campaign staff when appropriate.