When employees of Atlas Liquors went to open their store at 9:00 a.m. this past Saturday, they found over 40 people waiting outside. The family-owned package store wasn't premiering a movie or selling the latest smartphone, although the people who had camped out in line starting at 11:00pm the night before made it look that way. Rather, each waiting customer was hoping to be one of the lucky few to get their hands on a bottle of Pappy Van Winkle's Family Reserve Bourbon.
Pappy Van Winkle's bourbon has long been regarded as one of the finest bourbons in the world, and with low production from the Old Rip Van Winkle Distillery and very high demand, also one of the rarest. With a limited run of 7,500 cases this year, many stores drastically inflate the pricing on their limited inventory. A bottle of the 23-year aged liquor can easily sell for thousands of dollars in liquor stores and bars—but not by the local discount liquor store, Atlas Liquors.
"We pride ourselves on keeping to our mission statement," said third generation Atlas owner Jeff Fine. "We are a discount store and we offer quality products at discounted prices. We appreciate and celebrate our customers, the same as we have since the end of prohibition—we don't take advantage of them."
A bottle of the 23-year old bourbon can be found in New York's Financial District Wine and Spirits selling for $2,300, but sold at Atlas for only $259.99. Instead of a lottery system instituted by most other liquor stores, Atlas made the bourbon available on a first-come, first-serve basis. All who waited were treated in the morning to free coffee and donuts, and employee pricing discounts were given to those who were not lucky enough to get one of the bottles of Pappy's in the store's inventory.
Local customers of the Medford store are not surprised by Atlas' dedication to a fair and honest deal. The first true discount liquor store in the area, Atlas was also one of the first self-service stores in Massachusetts, the first to hire female clerks, and the first to offer shopping carts. As the people who waited in line last weekend and decades worth of other customers have come to know, Atlas Liquors does things a little differently. And for the lucky–if chilly–people who purchased a bottle of the elusive Pappy Van Winkle's bourbon at MSRP pricing, that difference is something to celebrate.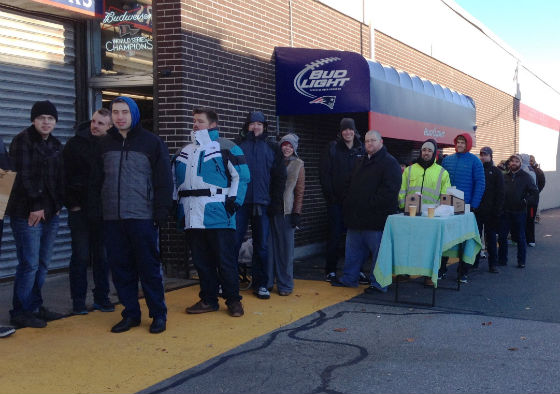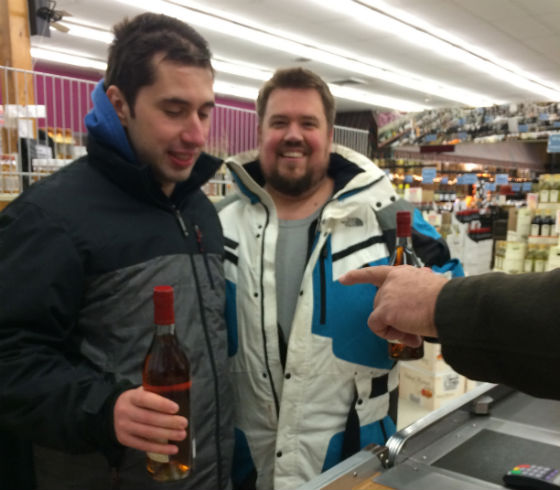 - Information and photos from Atlas Liquors