Brokaw Speaks at Tufts Monday
|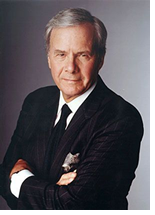 Veteran news anchor Tom Brokaw, pictured at left, is the third high-profile journalist to speak at Tufts. Courtesy photo.
Story Updated 2PM Wednesday, April 16, 2008
Former NBC Nightly News anchor Tom Brokaw will speak at Tufts University Monday at a special forum organized by the school.
Brokaw will serve as moderator for a discussion of political news coverage for the 3rd Annual Edward R. Murrow Forum on Issues in Journalism.
The panel will include Matt Bai, national politics reporter for the New York Times Magazine, Eric Ferhnstrom, former senior communications adviser for Mitt Romney, and Peggy Noonan, Wall Street Journal columnist and former presidential speech writer. Brokaw and the panelists will then take questions from the audience.
A live webcast of the forum can be watched at http://enews.tufts.edu at the time of the event, which begins at 1:30PM.
Brokaw has covered every single presidential election since 1968 and spent two decades as anchor of NBC Nightly News.
Brokaw is the third high-profile journalist to take part in the lecture series, following veteran news anchors Ted Koppel and Dan Rather.
More…
Watch video of the event, courtesy Tufts University
See what Koppel and Rather had to say during their speeches at Tufts