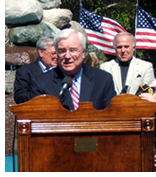 Mayor Michael McGlynn made the following remarks during Medford's Memorial Day ceremony at Oak Grove cemetery:
We gather together this Memorial Day to honor all veterans…those living and those who have made the supreme sacrifice. And we pay a special tribute to the over 500 Medford men and women who have served, or who are currently serving, in the armed forces in Afganistan, Iraq and around the world. Memorial Day affords all of us the opportunity to express our appreciation and gratitude to all who have served in the United States military. And, while it is a day to honor our men and women who have made the supreme sacrifice protecting our freedoms, it is also a day to honor those who have contributed and will pass on the lessons they have learned to future generations.
Medford was settled in 1630, and since that time, our residents have always taken the lead and fought to protect our freedoms around the globe. They have always responded to serve in every war, crisis, or conflict.
In December 2000, President Clinton signed into law "the national moment of rememberance," which designates 3PM every Memorial Day as the time to stop and honor all those who died in the pursuit of freedom and peace. This law sent home the message that Memorial Day is not just an extra holiday off from work and school. It is not about barbecues, baseball games or the Indy 500. It is about sacrifice, freedom and remembrance, because our veterans fought and died to make it possible for us to live in a free society. As Carmella LaSpada, the Director of the White House Commission on Remembrance, stated: "I hope all Americans observe the national moment of remembrance to recognize, honor and memorialize all those who have given their lives in service to our country. They were someone's father, mother, son, daughter, sister, brother, relative and friend. Their families are also casualities of war, for their loss is the most enduring sacrifice."
Throughout our fine city, there are many memorials and monuments that honor our veterans and keeps their history alive for all future generations. In 1963, President Kennedy stated: "A nation reveals itself not only in the men it produces, but also by the way it honors the men it remembers." In Medford, we are proud to be able to invite citizens to veterans Honor Roll Park, where brand new monuments were erected to honor those who served in World War II, Korea and Vietnam. I am pleased to announce that future additions will be made to this park. Shortly, the Office of Veteran Services will begin collecting names of Medford residents who served in Operation Desert Storm, and later this year, those who served in Operation Enduring Freedom and Operation Iraqi Freedom. Eventually, those names will become a part of Honor Roll Park.
Today, I would ask that you take a moment to stop and think of those families who currently have members serving our country in the Middle East and around the world. These young men and women have voluntarily left the comfort of their Medford homes to fight for democracy throughout the world. We applaud their courage and their dedication to America's principles of life, liberty and the pursuit of happiness. These Medford residents are the true heroes of today, and we remain steadfast in our support of them.
On this Memorial Day we remember the words of President Franklin D. Roosevelt: "Those who have long enjoyed such privileges as we enjoy, forget in time that men have died to win them." Today, presents us with the perfect opportunity to honor our veterans who have honored us, by serving so couragiously in the face of great conflicts.
I ask all of you this weekend, to remember in your prayers, our United States Senator Edward M. Kennedy, who has in so many ways touched the lives of all Medford residents.
Thank you and God bless the United States of America.