Story Updated 4:32PM Wednesday, July 2, 2008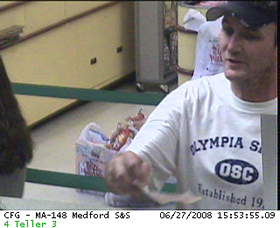 Medford Police have arrested a suspect in connection with two bank robberies in less than a week.
Craig Boudreau, 38, of Boston, was arrested yesterday afternoon at a Boston hotel after an alleged armed robbery of the US Alliance Federal Credit Union at Station Landing. He is also the prime suspect in another alleged armed robbery of the Citizens Bank inside Stop and Shop on June 27.
Boudreau is being charged with two counts of armed robbery by the Medford Police.
Police say at around 4PM on Friday, June 27, Boudreau is alleged to have ripped off the Citizens Bank on 30 Commercial Street inside the Super Stop & Shop. He allegedly approached the teller, indicated that he had a weapon, a gun, and demanded money from the teller.
According to police, Boudreau entered the US Alliance Federal Credit Union at Station Landing around 11:30AM on July 1 and passed a note to the teller that indicated he had a gun and that he would use it if the teller did not give him cash. Boudreau then fled on foot but after an investigation by Medford Police, detectives from various local agencies, and the FBI, police figured out who the suspect was and apprehended him in a Boston hotel.
- InsideMedford.com