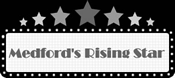 Competition Will Showcase Local Talent
Calling all performers in Medford- the Jingle Bell Festival Committee wants you!
In an effort to raise some money and generate some excitement in the community, the volunteer committee that organizes Medford's annual winter extravaganza is putting on a talent competition this fall.
Dubbed Medford's Rising Star, the contest is open only to Medford residents that have extraordinary- and likely unknown- talent. Auditions will take place in September, and thirty finalists (ten from three different age groups) will be selected to perform in a grand finale in October. A panel of experts will then select the top winner from each age group 6-12-year-olds, 13-17-year-olds, and 18+.
Organizers say "any talent that can be performed on a stage" is welcome. This includes bands, dancers, singers, jugglers, gymnasts, instrumentalists, and comedians, among others.
The winners will receive prizes and the opportunity to perform at several local events. All proceeds benefit the Community Family's Buddy Coholan Memory Loss Center.
More…