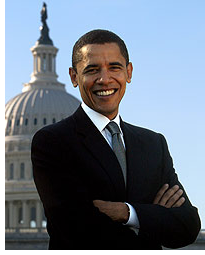 Medford, Nation Elect First Black President
Story Updated 5:19PM, Wednesday, November 5, 2008
- Allison Goldsberry
In an election for the history books, Democrat Barack Obama has become the first African-American to become president in the nation's history.
Obama swept the Electoral College, earning 349 votes to Republican John McCain's 148.  The popular vote was closer, with Obama earned 62,430,518 to McCain's 55,372,679 votes.
In Massachusetts, Obama earned 62% of the vote, while McCain got 36%.  In Medford, Obama earned more than twice as many votes as McCain- 17,507 votes compared to McCain's 8,627.
In other election news, US Representative Edward Markey (D-Malden) and US Senator John Kerry (D-MA) were both re-elected.  Sen. Kerry received 71% of the vote in Medford, while his Republican opponent, Jeff Beatty of Harwich, got 26%.  Rep. Markey received 20,439 votes in Medford.
State Senator Pat Jehlen (D-Somerville) and State Representatives Paul Donato (D-Medford), Carl Sciortino (D-Medford), and Sean Garballey (D-Arlington), were all re-elected to their seats.  Sen. Jehlen received 19,807 votes, Rep. Donato, 9,513, Rep. Sciortino, 6,354, and Rep. Garballey, 4,119.
Medford resident Tara DeChristofaro, a Democract, was elected Middlesex Register of Probate, succeeding disgraced former Registrar John Buonomo. DeChristofaro earned 19,283 votes in Medford.
Medford resident and Democrat Michael Callahan was also re-elected to his Governors Council seat and earned 20,356 votes in Medford.
Three questions were on the ballot yesterday asking voters to eliminate the state income tax (Question 1), decriminalize the possession of small amounts of marijuana (Question 2), and ban dog-racing (Question 3).  Question 1 was handily defeated, while Questions 2 and 3 passed.
In Medford, 73% of voters voted against Question 1, while 27% supported it.  Sixty-seven percent supported Question 2, while 33% voted against it.  Fifty-four percent voted to ban dog-racing, while 46% voted against the ban.
Turnout was high in Medford and across the nation.  A spirited campaign, two history-making tickets, and spring-like weather in the state yesterday brought out more voters than in recent memory.  In Medford, 26,938 of the city's 35,441 registered voters- 76%- cast ballots, compared to 72% statewide.