Galebach Qualifies for National XC Race
|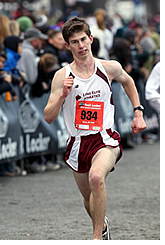 Medford senior and star runner Phil Galebach is pictured at left at the Foot Locker race finish. Courtesy photo.
Medford Runner Heads to National Cross-Country Championships
Story Updated 5:29PM Monday, December 1, 2008- Video Below
– Allison Goldsberry
Medford High School senior Phil Galebach took 7th place on Saturday at the 2008 Foot Locker Cross-Country Championships at Van Cortlandt Park in the Bronx.
Galebach's finish qualifies him for an all-expenses paid trip to San Diego, where the national high school cross-country championships will take place in two weeks.
Galebach covered the 3.1 mile course in 15:49, one second behind the only other Massachusetts top-ten finisher, Mike Moverman of Oliver Ames.
Galebach is no stranger to success.   He won the Eastern Massachusetts Division 1 race in a spectacular, come-from-behind win after taking a tumble, is a two-time Boston Globe All-Scholastic, was named a Greater Boston League All-Star this season, and was recently the subject of Channel 5's High 5 sports profile.
Galebach, one of ten kids in his family, was home-schooled before enrolling at Medford High School.  He also works hard in the classroom, earning A's in Advanced Placement classes.  He is considering Harvard, Stanford, and the University of Virginia for college next year.
Galebach is coached in cross-country by Head Coach Lou Ruggiero, who traveled with him to NY for the race, and Assistant Coach Tom Lynch.