Spring Sports Underway at Medford High
|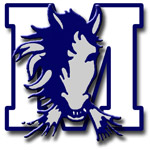 Story Updated 10PM Wednesday, April 8, 2009
The Mustang spring sports season has kicked into gear, with scrimmages and practice games over and the regular season underway.
The varsity girls lacrosse team is 1-1 overall and 1-0 in the Greater Boston League. The girls pulled out a 9-3 victory over Cambridge on Tuesday, led by Mary Barber, who had three goals and one assist, according to head coach Matt Galusi.
Head coach Nick Tucci's baseball team opened up their season at home on Wednesday with a lopsided loss to former Greater Boston League champion Waltham.  The Mustangs held their own through the fourth inning and only trailed by one run, but then things got ugly. Their pitching fell apart, fielding errors brought in some runs, and an ump gave Waltham a gift that unfortunately kept on giving when a Hawk stealing second in the fifth inning was out by a mile but was called safe.  Senior captain Richie LeBert struck out six before being taken out of the game after 5 1/3 innings.  Medford will face some non-league competition at home when it takes on Winchester on Saturday at 10:30AM and South Boston at 4PM on Wednesday.
The Mustang softball team, led by new head coach Jack Dempsey, lost their first game of the season to tough non-leaguer Danvers, 8-7, despite an incredible comeback. The Medford girls came from 6 runs down to make it a 8-7 game by scoring 4 runs in the 5th and 1 in the 6th before losing to a strong Danvers team. All of the Danvers runs were scored in the first 4 innings before the Mustang girls settled down. The Mustangs had 13 hits in the loss led by junior captain Nicole Lopilato (3 hits, 2 triples, 1 single, 2 runs, 2 RBI's), senior captain Kim Perault (a double, 3 RBI's), senior captain Jen Bove (2 hits, 2 runs and 1 RBI). Also with 2 hits apiece were freshman Jackie Pellechia and sophomore Vicky Luongo. Sophomores Kristina Bove, Sarah Moulton and Kasey Moran had 1 hit each. Kristina Bove did a fine job on the mound.
Medford's home opener is Thursday vs Arlington Catholic at 3:45 PM at Tufts park.