Tufts Ranks High Among Best Values for Private Schools
|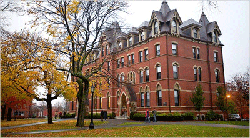 Financial Magazine Ranks Private Colleges for Value
– Allison Goldsberry
Despite being the most expensive college in Massachusetts, a financial magazine has ranked Tufts University among its 100 best values in private colleges and universities.
Kiplinger has ranked Tufts 22nd in its top 100 list for best private college values and third in the state. The magazine considers such factors as academic quality, cost, and a school's "generosity" in doling out financial aid.
"Strange as it may seem to call a school that charges, say, $50,000 a year a good value, many of our top-ranked institutions give enough aid — often in the form of grants — to bring the average price to as little as half or less of the sticker price," writes Jane Bennett Clark, senior associate editor for Kiplinger.
According to the Tufts Daily, news magazine US News and World Report ranked Tufts 26th on its 2010 list of best college values using similar guidelines.
Although Tufts charges $51,088 for the 2009-2010 academic year for tuition, room, board, and fees, the average cost of a Tufts education is $35,000, according to the Daily. That figure takes into account those students who receive financial aid as well as though who pay the full price tag.
About forty percent of Tufts students receive financial aid, with an average award of $27,000.
The cost to attend Tufts rose 3.5% over last year, the smallest increase in 45 years. Last year's costs rose 5.3% over the previous year. According to President Bacow, Tufts increased its financial aid by 12% this year since more students are in need given the sour economy.