Bubs Back on Campus After 2nd Place Finish on TV Competition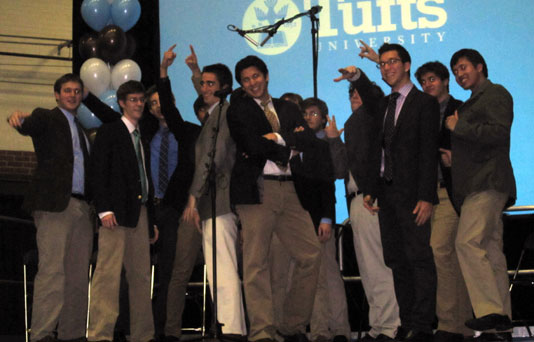 The Beelzebubs perform Flo Rida's "Right Round" for the crowd during their homecoming event on Thursday afternoon at Tufts.
Tufts University and local community members enthusiastically welcomed home college a cappella group the Beelzebubs during a special ceremony on Thursday afternoon. The Bubs placed second on NBC's The Sing-off, a national singing competition in December. Mayor Michael McGlynn presented the group with keys to the city and told them they made Medford proud. The Bubs performed two of their hits for the audience, Flo Rida's "Right Round" and a medley of songs by The Who. Nick Lamm, a senior and music director for the Bubs, said the group had a "wild, wild, and fun" time on the show and they appreciated the support they received from the community.