Chuck Andre Returns to ERA Andrew Realty
|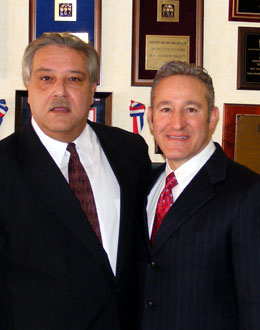 The following announcement is from ERA Andrew Realty:
Chuck Andre has returned to his local real estate roots and became re-associated with ERA Andrew Realty. John Veneziano, Broker/Owner of the company, couldn't be more pleased.
"Chuck and I have a professional history that spans almost three decades and a personal relationship that extends even longer. I'm just thrilled," Veneziano said. "Having Chuck back means our entire company will benefit from his expansive and diverse 30 years of experience in real estate sales and development," Veneziano explained. "There's no doubt his breadth of real estate knowledge and expertise will prove invaluable not only to our ERA Andrew Realty team, but also to those in our community as well."
Andre is a lifelong resident of Medford with strong ties to the city and has a real estate and development background that seems to run equally as deep. In fact, it may actually be in his blood. The son of Frank and Norma Andre, he spent the better part of his youth acquiring business savvy and skill-sets from his father, who owned numerous properties and operated several Medford businesses, including the former Medford Cinema on Salem Street. However, it was through his father's successful Andre Construction Company that he developed a passion for real estate, learning the trade firsthand, as he watched his dad's company construct and sell over 250 quality homes during the 1960's and 1970's in Medford and the surrounding area.
In addition to real estate, Andre's younger years were filled exploring other interests and of course, baseball, a passion that continues today. Andre is a 1974 graduate of Medford High School and former acclaimed Mustangs pitcher and captain who was inducted into the Medford High Mustang Hall of Fame in 1995. He went on to graduate from Boston College in 1979.
A well-known figure in the Boston area sports scene, Andre, with Veneziano's urging, took control of the legendary Hosmer Chiefs baseball franchise in 1989, and renamed them the Andre Chiefs. Ironically, it was the sweet-swinging Veneziano, who also starred at Medford High and played his college ball at Westfield State, who was the starting left-fielder and among the team's leading hitters.
The Chiefs are one of nine current franchises in the prestigious semi-professional Intercity League and have brought 17 championships to Medford since 1959. The team plays their home games at stately Huskins Field on the campus of Tufts University. Andre pitched for the Chiefs in the 1970's & early 1980's for then manager Joe O'Donnell, who went on to become a Boston business mogul. Prior to 1989, the Chiefs were owned by Medford sportsman John Hosmer of Hosmer Pontiac. Andre continues to serve as the Chiefs' owner and on field manager today. Chiefs' loyalists enjoy following the team on their award-winning website at www.AndreChiefs.com.
In 1986, Andre brought his entrepreneurial skills to the forefront when he founded and became president of Andre Realty at 30 High Street. He convinced Veneziano, his longtime friend and former teammate, to come onboard and they began listing and selling a wide range of both residential and commercial properties in Medford and the surrounding area. A couple of years later, Andre Realty evolved into the area leader in the development, marketing and sale of numerous large condominium projects. In 1989, Andre and Veneziano, who became vice-president of the company, decided to purchase the ERA (Electronic Realty Associates) real estate franchise. Following their affiliation with ERA, Andre and Veneziano moved the company to a new location at 10 Main Street.
In the 1990's, Andre decided to pursue other business ventures. It was then that Veneziano, who had left a lucrative career as a surgeon's assistant to help build Andre Realty, became the sole proprietor of the company. Veneziano simply added a "w" to the name and the company was renamed ERA Andrew Realty, after his eldest son. He then moved the Medford office to its current location at 12 High Street and opened additional offices in surrounding cities, including Stoneham and Malden. For the past 18 years, under Veneziano's ownership and direction, ERA Andrew Realty has risen to become a major player in the local real estate market. The company currently has over 60 sales agents and has become one of the leading ERA Real Estate franchises in country.
When asked about the irony of being reunited with Veneziano, Andre smiles. "We've certainly come full circle and it's great to be back with John," Andre said. "John is like a brother to me and he has done magnificent things with this company. I'm looking forward to working with him and his sales team and putting my experience to work in the community."
Indeed, Andre's ties to the community are deep and his business, professional, and civic affiliations could fill volumes. To name a few: Andre is a member of the National Association of REALTORS®, the Massachusetts Association of REALTORS® and the Greater Boston Real Estate Board. He was involved with the North Medford Little League from 1992-1999, a Board of Director for the Medford Pop Warner Colts from 1993-2000, the Medford Babe Ruth from 1999-2005 and he has been on the Board of Directors of the Intercity League since 1988 and served as Chairman of the League since 2003. Andre is also President of the Merrimack College Parents Fundraising Committee as well a board member of the Medford Baseball Council. In addition, Andre is an active contributor to a wide variety of local and national charitable organizations. He is also is an accomplished columnist and former editor of trade journals and publications in the equine and legislative fields.
Andre resides in the Lawrence Estates section of Medford, a city he never left, with Kathy, his wife of 25 years and two children, Michael and Carla. Michael, who has joined the company as a Sales Associate, is a 2005 graduate and was a multi-sport athlete at Medford High. He is also a 2009 graduate of Merrimack College, where he captained the college's baseball team. Andre's daughter, Carla, a 2007 Medford High School alum and three sport captain, is a now a junior at Emmanuel College and a member of its basketball team, which is currently ranked #17 in the country.