Kids Winners in MPD/DCF Charity Hockey Game
|
Over $4,000 Raised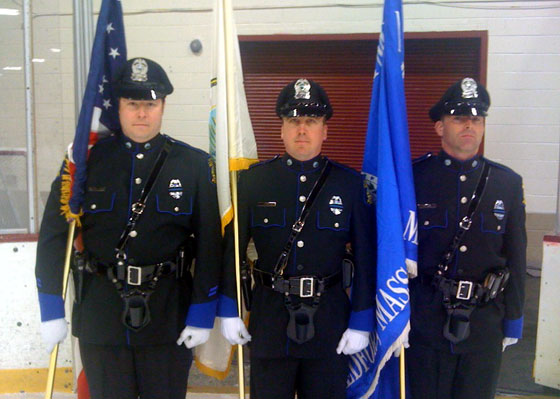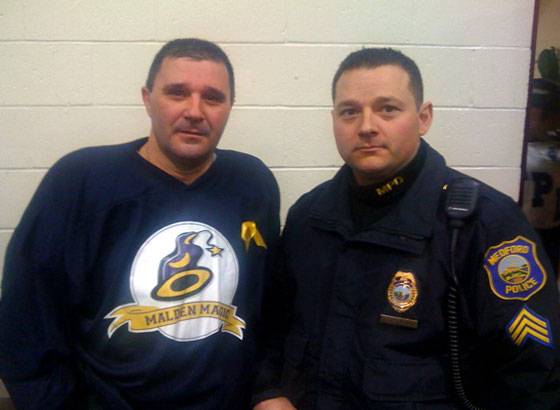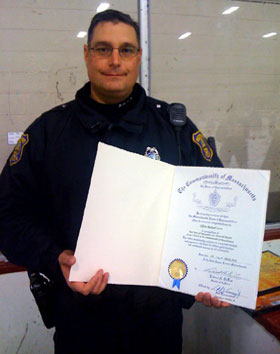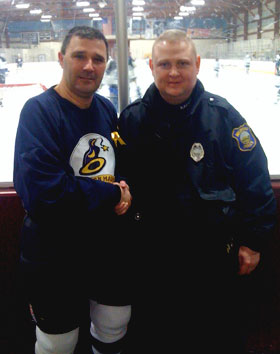 The 4th Annual Medford Police vs. the Malden office of the Department of Children and Families (DCF, formerly DSS) Charity Hockey Game took place at Loconte Rink on March 19.
Although the MPD beat the DCF 7-4 the real winners are the kids. The Medford Police Patrolman's Association and the Medford Police Superior Officer's Association donated $250 each. The Medford Police Hockey team donated $400. The entire event raised over $4,000, with the money used to send kids to summer camps as well as for other activities. The money is also used for emergency situations when children are temporarily removed from their homes.
Malden DCF Office Director Gus Rego organized the game. Lt. Kevin Faller and Officer Marc Gigante of the Medford Police were instrumental in organizing department for the game and gathering the contributions.
Medford Police Officer Richard Iozza was presented with an award from the Massachusetts House of Representatives by Representative Paul Donato for the work that he has done with the children of Medford. He has been a DARE officer in Medford for five years and is an involved parent who has kept busy coaching various sports such as baseball, football, and basketball for many years.
Above: The Medford Police Honor Guard (left to right): Officer Joseph Gagliardi, Off. Joseph Casey, and Off. Alan Wise. Malden DCF Office Director Gus Rego with Medford Police Sgt. Angelo Raffaele. Officer Iozza with his award. Rego with Medford Police Officer Harold MacGilvray III.
– Submitted by Lt. Paul Covino.