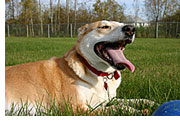 The Jingle Bell Festival Committee is sponsoring Medford's first Community Dog Show!
We need your help with the name.
The event will be held on Saturday, September 18, 2010 at the Loconte Rink, Locust Street in Medford. There will be a dog fashion show, best dog contest, exhibitions from the Medford Police canine department, agility contests, plus much, much more.
Proceeds of this event will go to Medford's Community Family Center and toward the creation of a dog park in Medford.
But we need a name for Medford's Community Dog show!
That's where you come in. Submit your entry, along with your name, phone number, and email address to the Jingle Bell Festival Committee, P. O. Box 560303, West Medford, MA 02155.
Click here to download an entry form.
The winner will be announced on June 10th. The winning entry will receive free entrance into the dog show, along with being named "Honorary Marshall" for the show.
If you, or anyone you know, is interested in helping the organizing committee, please call Judy Lonergan at 781-820-8237.
- Submitted by Judy Lonergan