'Mustang pride means you have self-respect, confidence and a belief in all that is good'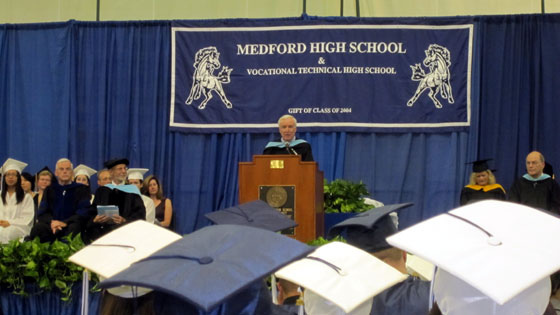 Superintendent Belson, Headmaster Krueger, Vocational Director Mahoney, fellow School Committee members, faculty, family members and the class of 2010. It is with great pleasure that I bring to you the congratulations and best wishes of all the citizens of Medford upon the occasion of your high school graduation!
Medford High School is an incredible place and it has helped to make you the individual you are today. As an American, you are the shining example of how the education of our youth is so important to the future of this country. As President Kennedy once said, "Our progress as a nation can be no swifter than our progress in education. The human mind is our most fundamental resource." Even today his words resonate throughout the world, as students in developing countries, especially females, struggle to obtain an education.
Each of you holds within yourselves unique qualities that can benefit the future of our planet. You have grown up witnessing the horrors of 9/11, many natural disasters and (2) wars, all of which have had a profound effect upon you. But, even in these uncertain times, much is still expected of you. The world still looks to America for direction and leadership. Now, more than ever, our planet yearns for young leaders who will have a positive effect upon our future destiny. We look to you to help to improve the quality of life for all people. We look to you to tackle difficult challenges and to use them as opportunities for constructive change.
Ggraduation brings with it, goals to be met, and dreams to be followed. Know that you can attain your goals as long as you are willing to work hard for them. Find your passion because it will fuel you from the inside. Follow it, nurture it, and true success will follow.
As you move into this new stage in your life, realize that it is filled with infinite possibilities. The author, e.e. cummings, once said, "It takes courage to grow up and become who you really are." Remember that your family and friends are a vital part of your present and future successes. These relationships are truly what is important in life. Never forget that the best gift of all is giving back to those who may need a helping hand.
While at Medford High, you received a special gift, the blue and white that runs through your veins. "Mustang pride" means you have self-respect, confidence and a belief in all that is good. As Bon Jovi says, Medford's class of 2010 "weren't born to follow, you've got to stand up for what you believe."
Every generation has the moral obligation to improve upon and provide better opportunities for the next generation. As I look out, I see in your faces shining examples of the American spirit. It is up to you to use that spirit to influence the future of our great country and in some measure this world. You may have to think outside of your comfort zone to help push this nation forward. Use your energy, ingenuity and optimism in order to make a difference for all humankind. As President Obama said during this commencement season, "it's times like the ones you're facing today that forces us to try harder and dig deeper. Times like these move us to find the greatness we each have inside, and in doing so rediscover the greatness that defines us as a nation."
You are off to a great start! May the future bring you much success and happiness! Thank you and God bless the USA!