Neighbors Organize Lakeside Cleanups
|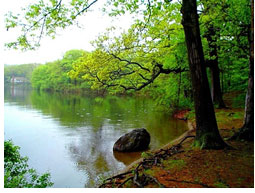 Mystic Lakes. Photo by Paul Rapatano.
Residents Plan to Keep Their Side of Lower Mystic Lake Clean
– Allison Goldsberry
A quiet West Medford neighborhood bordered by Ravine Road, Lakeview Avenue, and Mystic Valley Parkway is fortunate to have easy access to the Lower Mystic Lake, right at the mouth of the Mystic River.
Unfortunately, this small grassy area and series of short wooded trails are often littered with beer cans and trash, say neighbors. Many hikers and dog walkers already pick up garbage on their own, only to return a few days later to see it trashed again. One resident decided to take action to keep the area clean.
Lynn Rosenbaum, who lives two blocks from the area, hoped that by organizing a systematic year round clean up, people's efforts would feel less futile, and everyone could enjoy the benefits.
Rosenbaum connected with interested neighbors via email, thanks to some contacts provided by Ken Krause, a member of the Friends of the Mystic River, and posted some flyers near the lake. She began with a group clean up on June 26 where neighbors were able to meet each other and spend an hour picking up trash.
However, Rosenbaum wanted to keep the clean ups going, so she organized the dozen or so volunteers into groups of three or four to be responsible for cleaning one week out of the month throughout the year. This simple organizational structure allows neighbors to clean on their own or in small groups, and easily allows for new volunteers to join, said Rosenbaum.
The group plans to hold a social gathering sometime in the fall.
Rosenbaum hopes that others will follow her lead in this simple organizing effort to keep clean other areas around the Mystic Lakes. For more information, contact lynnarosenbaum@gmail.com.