Story Updated 3:24PM Sunday, August 29, 2010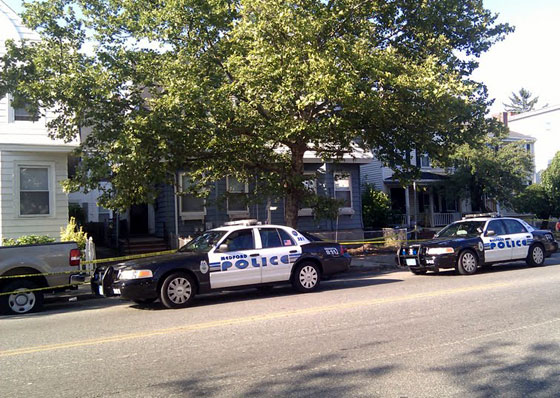 A man was found murdered at 382 Salem Street (gray house) early Saturday morning. Police were still on-scene late Saturday afternoon.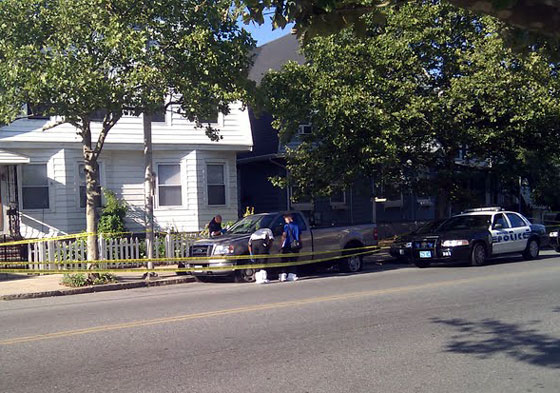 Investigators collect evidence from a pickup truck with flat tires parked near the crime scene.
- Allison Goldsberry
A Cambridge man wanted in connection with the murder of a Weymouth man at 382 Salem Street in Medford on Saturday has turned himself into police.
According to information released from Middlesex County District Attorney Gerry Leone, Christopher Toppi, 28, of Cambridge, turned himself into authorities on Saturday and has been arrested and charged with the murder of Brian Fahy, 28, of Weymouth.
Toppi is being held pending his arraignment in Somerville District Court on Monday morning.
Fahy was found unresponsive around 3:30AM Saturday morning at a 382 Salem Street home. When EMS found the victim he was displaying "obvious signs of trauma" and was pronounced dead at the scene.
Police are investigating the circumstances of the death. They say the incident was not random, that the men were known to each other, and the death "appears to be the result of a confrontation."
An autopsy will be conducted by the Office of the Chief Medical Examiner (ME) to determine the cause and manner of Fahy's death.
Investigators were still on scene late Saturday afternoon and appeared to be collecting evidence from a pickup truck with flat tires that was parked in front of the home.