Cambridge Man Charged in Medford Murder
|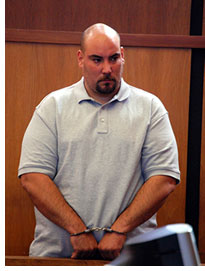 Chris Toppi, 28, during his arraignment in Somerville District Court on Monday for the murder of a Weymouth man in Medford on Saturday. Photo courtesy Medford Daily Mercury.
DA Says Victim Beaten to Death
– Allison Goldsberry
A Cambridge man has been arraigned on murder charges in connection with the death of a Weymouth man in Medford early Saturday morning.
According to information released by Middlesex District Attorney Gerry Leone, Christopher Toppi, 28, was arraigned Monday in Somerville District Court on one count of murder. Toppi pleaded not guilty and is being held without bail. He is due back in court on September 20 for a probable cause hearing.
Toppi is accused of beating to death 28-year-old Brian Fahy of Weymouth at a Medford home early Saturday morning.
"We allege that the defendant beat the victim to death," District Attorney Leone said. "This is another tragic example of a defendant resorting to violence, causing lasting and tragic circumstances for the victim and his loved ones."
Toppi turned himself into authorities Saturday night after police issued a warrant for his arrest that afternoon.
Fahy was found unresponsive around 3:30AM Saturday morning at a 382 Salem Street home. When EMS found the victim he was bleeding from his head and nose and was pronounced dead at the scene.
Investigators say Toppi started a fight with Fahy and then beat him to death. An autopsy by the Office of the Chief Medical Examiner determined the cause of death to be blunt force trauma to the head and the manner of death homicide.
Medford Police and State Police worked together on the investigation.