'Dance in the Fells' October 9
|
A fresh view of the Middlesex Fells landscape through Contemporary Dance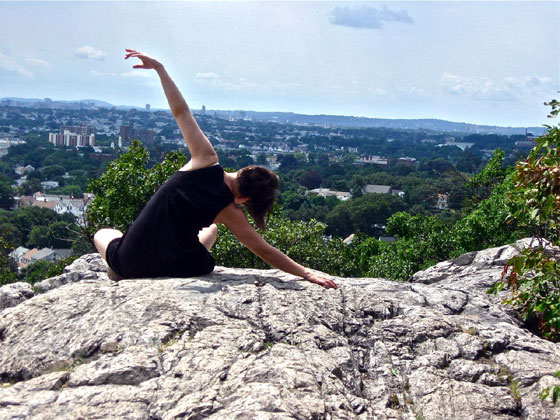 Two Roads Performance Projects presents Dance in the Fells, a site-specific dance event in the Middlesex Fells State Park, just minutes outside of Boston. On Saturday, October 9, six gifted, Boston-based choreographers present new dance works inspired by six locations of the Middlesex Fells, one of the largest and most spectacular nature preserves in the greater Boston area.
Featuring new outdoor, site-specific work by EgoArt, Inc./Nicole Pierce, Joan Green, John Kramer, Monkeyhouse Dance, and Sara Smith. Hike, bike, or walk the wooded trails of the Middlesex Fells and experience the best in innovative contemporary dance performed within the glorious fall landscape! Rain date October 16.
Performances occur on the hour between 1-6 PM at the Sheepfold (John Kramer), Wright's Tower (Monkeyhouse Dance), Long Pond/Molly's Spring (Joan Green Dancers), South Reservoir (EgoArt, Inc), Panther Cave (Sara Smith) and Bellevue Pond (Lorraine Chapman).
Not since Elizur Wright's forest festivals of the 1880s has the Middlesex Fells been so alive with the arts. Wright's forest festivals observed the passing of the Massachusetts Forest Act (1882), celebrated the beauty of the woods, and introduced people to the many unique landscapes of the Fells. This year, Dance in the Fells seeks to broaden the audience for dance by appealing to both lovers of the art form as well as hiking/nature enthusiasts — and offers a fresh view of the Fells landscape through dance. The event is FREE and open to the public.
To see our promo video and for more information about the choreographers, performance times, locations, directions, parking, wheelchair accessibility, and the shuttle bus service please go to www.tworoads.org. You can also find "Dance in the Fells" on Facebook and follow us on Twitter @DanceintheFells.
Two Roads Performance Projects was founded by Wanda Strukus and Kyna Hamill to support the creation of site-specific and environmentally based performance. Collectively, they have produced, created, and facilitated over 50 theater, dance and movement-based productions.
Dance in the Fells is supported in part by grants from the Medford and Winchester Arts Councils, local agencies which are supported by the Massachusetts Cultural Council, a state agency and The Boston Foundation, a community foundation.
– Information from Two Roads Performance Projects