'Containerized' Trash, Recycling Coming to Medford
|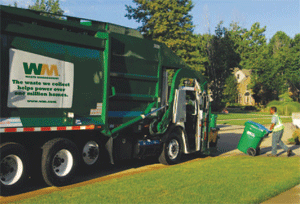 October 14 is the first day of a three week distribution of new trash and recycling containers for Medford residents. Starting on November 1, residents must use the new trash and recycling containers. Below is a story about the new program that was published on InsideMedford.com in August. For more information about the new program, click here to visit the city's website.
Collection of Trash, Recyclables to Change November 1
– Heidi Walsh
By November 1st, trash day will be transformed in Medford. The city will launch a new trash collection program with containerized and single-stream recycling, which Mayor Michael McGlynn and members of the Recycling and Trash Improvements Commission say will save taxpayer dollars and help the environment.
According to Mayor McGlynn, Medford has had a very unimpressive record of recycling, which has left the city with an expensive trash removal bill. McGlynn says the new program will save the city $600,000.
Two large, lidded barrels paid for by the city will be distributed to Medford homes in the weeks of October, one for recycling and one for trash. The sixty-four gallon barrel for trash will fit two trash bags while the ninety-six gallon barrel will be used for recycling.
So what happens if you have extra trash?
"If they have extra trash then they'll be able to lease a second barrel for a fee. A fee will also be included for people throwing out furniture," said Mayor McGlynn. "This will give people the incentive to recycle more."
And for those who might considering dumping their trash elsewhere in the city or stealing a neighbor's barrel (both actions are illegal, by the way)?
McGlynn says a serial number registered with each household will be on the barrels and cameras will be placed near illegal dumping "hot spots" around the city.
"Waste Management has provided insight in identifying where the main areas of dumping have taken place and a camera program similar to that of the high school will be installed in two to three hot spots," said Mayor McGlynn.
Mayor McGlynn said over the course of the next few months the city plans to educate Medford citizens about the new trash and recycling program through phone messages, the city's website, the local media, and direct mailings with frequently asked questions and answers.
Anecdotally, it appears some Medford residents are open to the idea of increased recycling, while others are wary of the new program and the potential of trash removal fees for those whose new barrels can't accommodate all of their trash.
Interviewing a random sample of locals at the Medford Stop and Shop recently, many were surprised by the news of the new trash and recycling program and some were displeased by the change.
"It will be an experiment to see if it works or not," said one Medford woman. "I don't like how we're suddenly limited to how much trash we can take out but, who knows maybe it'll be enough."
Despite some critical comments, Mayor McGlynn firmly believes in the program's benefits to the city and the environment.
"This is a great program financially and environmentally and will bring uniformity to trash day," said McGlynn.