Pet Halloween Costume Contest October 16
|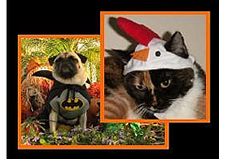 Kitty Connection's Third Annual Pet Halloween Contest!
Calling all wacky dog and cat lovers- Kitty Connection is looking for some furry, four-legged friends for its third annual Pet Halloween Costume Contest.
The contest will take place on Saturday, October 16 at Pet Supplies Plus, 630 Fellsway, Wellington Circle, Medford. Doggies are invited in costume from 11AM-noon while dressed up kitties should come for 12:30PM-1:30PM.
Judging will take place at noon for dogs and 1:30PM for cats. First place winner in each category will receive a $25 gift card to Pet Supplies Plus. Runner up in each category will receive a special holiday gift basket.
Pet adoptions will take place from 2-4PM.
Registration is $10 per pet and forms are available online at KittyConnection.net or can be picked up at Pet Supplies Plus. Same day registration is available but pre-registration is preferred, with pre-registered pets receiving special goodie bags.
For more information, e-mail kittyconnectioninc@yahoo.com.
– InsideMedford.com