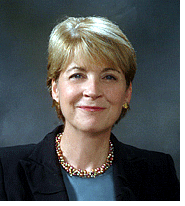 Story Updated 4:51PM Wednesday, January 19, 2011
The administration of the oath of office to Massachusetts Attorney General and Medford resident Martha Coakley will take place on Wednesday, January 19 at the Perkins School for the Blind.
Coakley was re-elected to her second term as Attorney General in November 2010.
Coakley had the following to say in a statement:
"I am proud of what we've accomplished together over the past four years, and I'm so grateful for your support along the way. Our efforts on behalf of consumers, taxpayers, and public safety make a difference to this Commonwealth every day, and a second term brings new challenges and a renewed commitment to this important work.
In another term, we will continue to work to ensure the integrity of our financial institutions and to hold banks and lenders accountable for their actions. We'll work to address abuses of power in government and tackle fraud and corruption. We'll address the public safety crisis and help ensure police and fire departments have the proper resources and training to keep us safe. We will seek to end human trafficking for sex and labor in our state. And, we'll continue to defend the civil rights of all our residents, working to ensure equality for all."
Coakley, a long-time lawyer who has spent the last two decades as a public servant, in 1998 became the first woman to be elected Middlesex DA and in 2006 was the first woman elected state Attorney General.
The ceremony will be broadcast live online starting at 5PM Wednesday.
- InsideMedford.com