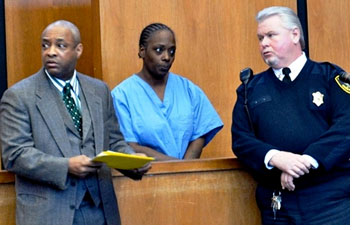 Shawntina Burston at her arraignment on Monday for the murder of her husband. Pool Photo By Jarret Bencks – Medford.Patch.com
Authorities Investigate Homicide in Medford; Defendant Charged With Murder
Updated 2:40PM Monday, January 31, 2011
- Allison Goldsberry
Authorities are investigating an apparent domestic violence incident between a man and wife that resulted in the man's death on Sunday.
Police responded late Sunday night to 108 Exchange Avenue in Medford, where they found Troy Burston, 34, suffering from a stab wound. Burston was transported to Lawrence Memorial Hospital, where he was pronounced dead.
Police have taken the victim's wife, Shawntina, 39, into custody. It is alleged she assaulted her husband with a knife after an argument. She was arraigned today in Somerville district court and pleaded not guilty to charges of first degree murder and assault and battery with a dangerous weapon, according to Boston.com.
Burston was ordered held without bail and will be back in court on February 25 for a probable cause hearing.
"This is another troubling incident of domestic violence turned fatal," District Attorney Leone said. "We allege that the victim was fatally stabbed by his wife during an argument, sadly leaving two young children behind."
Earl Howard, Burston's attorney, told Boston.com his client has no prior convictions but acknowledged she has been charged in the past with a handful of misdemeanors, including a 1996 disturbing the peace charge that was ultimately dismissed.
Medford Police and State Police assigned to the Middlesex District Attorney's Office are continuing to conduct an investigation into the circumstances of the stabbing, according to information released by Middlesex DA Gerry Leone.