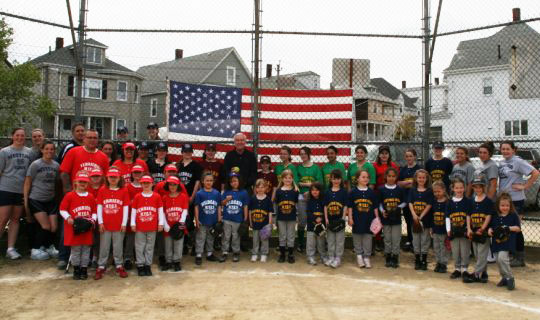 The girls with Mayor Michael McGlynn at the season opener last year. Photo courtesy Dina Colaggero.
Register now for Medford Youth Girls Softball!
An additional sign up has been added and the registration deadline has been extended.
Sign ups will be held on Saturday, February 19 from 11am to 2pm at the Meadow Glenn Mall (3850 Mystic Valley Parkway, Medford).
The registration deadline is February 28, 2011.
Divisions:
Instructional (Grades K-2)
Farm (Grades 3-4)
Minors (Grades 5-6)
Majors (Grades 7-9)
During the season your child will be actively participating in an organized, competitive team activity that will enhance self esteem, cultivate sportsmanship and promote cooperation all while developing them as positive role models for future generations.
Our goal is for every girl to have fun while we teach her how to play softball!
Please visit www.MedfordSoftball.org for more information and to print a registration form.
- Information from Medford Youth Girls Softball