Boys Hoops Looks to Keep Winning Streak Alive
|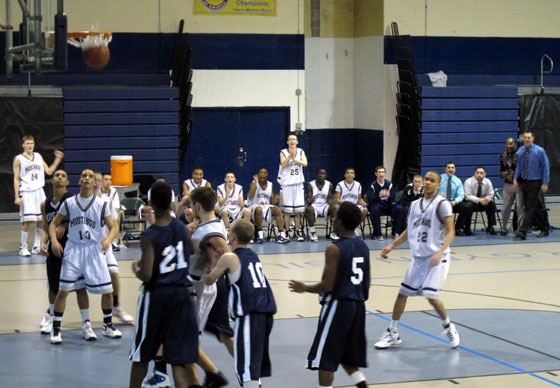 When Medford hosted Pope John in January, the Mustangs scored over 100 points.
– Allison Goldsberry
The boys varsity basketball team is hoping to keep up a three-game winning streak as it looks to qualify for the state tournament.
The Mustangs soundly defeated Pope John for a second time this season, earning a 92-76 victory on-the-road victory on Tuesday.
Head Coach Anthony Faradie said the victory was a good team win, with all twelve of the Mustangs who dressed for the game scoring. Senior Dan Gilchrist led the way with eighteen points, including hitting four three-point shots. Owen Healey added twelve points, Sean Doncaster and Ian Martin had eleven, and Maurice Magras contributed ten. Rico Altema and Larry Keating shared the defensive role of shutting down Pope John's star player Malcolm Brown and did a very good job while also controlling the glass rebounding, said Coach Faradie.
The Mustangs are currently 7-9 and need to win three out of the next four games to qualify for the state tournament. Medford is at Malden on Thursday and hosts Billerica on Friday. On Monday, February 21 the Mustangs host Stoneham and take a trip to Sharon on Wednesday, February 23 to wrap up the season.