Writer/Director to Lead Screenwriting Workshop
|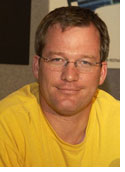 Gordy Hoffman, the Sundance award-winning writer/director (LOVE LIZA, A COAT OF SNOW) and founder of the BlueCat Screenplay Competition, comes to Medford to lead a screenwriting workshop on Saturday, February 19th, from 9:00AM-6:00PM at ERA Andrew Realty, 12 High Street in Medford Square.
Hoffman's FULL SCRIPT WORKSHOP consists of seven writers each submitting a full screenplay to members in advance of the workshop day, with plenty of time for participants to read each other's work. Hoffman will also read the screenplays in advance and provide brief written feedback on each screenplay. On the workshop day, Hoffman will go over each screenplay in depth, providing the writer with a constructive, specific reaction from the group on their current draft,as well as the suggestions on what they should address in the next rewrite.
Each writer will leave with great sense of what they can do specifically to improve their screenplay, as well a better awareness of where they might properly develop as a professional screenwriter as a whole. Not only do you learn from the focus placed on your screenplay by the workshop, but also by the examination of the other scripts of the day. This workshop invites all levels of writers and all stages of the developed script. Those who want to participate, but do not have any pages to submit may elect to audit the workshop, which allows you to attend without submitting written material and still participate in the discussion. The cost of the FULL SCRIPT WORKSHOP/full registration is $225. The cost to audit the FULL SCRIPT WORKSHOP is $45.
Winner of the Waldo Salt Screenwriting Award at the Sundance Film Festival for LOVE LIZA, Hoffman made his feature directorial debut with his script, A COAT OF SNOW, which world premiered in 2005 at the Locarno International Film Festival. The movie would go on to win the Domani Vision Award at VisionFest, held at the Tribeca Cinemas.
Hoffman has taught screenwriting at the USC School of Cinematic Arts and the University of Kansas, as well as led workshops all over North America, Poland and the UK. He recently served as a panelist for the 2010 IFP Script to Screen Conference in New York City and the George Eastman House Film Festival, as well as a judge for the 2010 McKnight Screenwriting Fellowships in Minnesota. Presently, he is attached to direct CORDELIA, written by Melissa Brandt, a love story inspired by KING LEAR, and he is writing a comedy about Christmas shopping. Hoffman founded the BlueCat Screenplay Competition in 1998 and remains its judge. He is the brother of Academy award-winning actor, Philip Seymour Hoffman.
To register for the workshop, please visit: http://www.bluecatscreenplay.com/workshop/. Please email bluecatworkshop@bluecatscreenplay.com with any questions.
– Information from ERA Andrew Realty