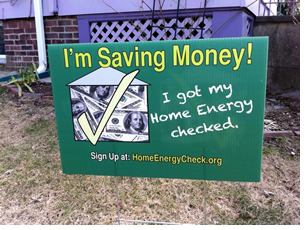 Medford Residents Can Get Free Home Energy Assessments
Green Medford is launching a spring campaign to encourage residents to get their home energy checked, and to obtain great savings through deeper energy efficiency improvements.
"Medford residents who get their home energy checked and then follow up on the suggestions for improvements can often substantially reduce their energy use, which in turns lowers their utility costs and improves comfort. This is a home run for residents," says Medford's Mayor Michael McGlynn.
The more residents are paying for home heating and electricity, the larger their living space, and the older their building, the more likely they are to benefit by making some changes. Poor insulation and air sealing (which stops leaks) cause a lot of heat waste in the cold months, especially in New England, as well as uncomfortably hot buildings in the summer. An energy assessment (also called an energy audit) tells residents whether they can save energy and money by upgrading the energy efficiency of their living space, or by making other changes such as replacing certain appliances.
Medford Resident Fred Laskey, who chairs the Medford Energy Committee, says, "A few changes can really make a big difference. Good insulation and air sealing are particularly important in older homes, which means most homes in Medford."
Medford residents can sign up for this free service at www.HomeEnergyCheck.org. A representative from MassSave, a state-run program that contracts for home energy assessments, will contact the resident within about two weeks. People who live in a building with 1-4 units, especially if they haven't had an energy audit within the last year or so, are probably eligible for a free audit. Renters often can be eligible, but need the landlord's permission before any major work is done.
At the audit, each household will get a detailed report about the home's conditions and the best ways to stop wasting energy. The representative from MassSave will also help the household identify other incentives that may be available after the energy assessment has been completed, which may include:
- A 75% rebate of up to $2,000 for insulating and air sealing the home,
- Rebates for replacing old appliances and heating systems with new, energy-efficient ones, and
- A zero-interest HEAT loan, which has a 7-year term, and $15,000 maximum
More information about the Home Energy Check Campaign:
Green Medford, Mass Energy Consumers Alliance, Mass Climate Action Network, and other environmental and community action nonprofit organizations in Massachusetts are working together to encourage residents to get their home energy checked, and to follow up when possible with deeper energy efficiency improvements. More information about the program is available online by clicking here.
Green Medford is a group of residents that seeks to educate the Medford community to understand our environmental impact, and to empower members of our community to make more sustainable energy choices related to homes and businesses, transportation, and food. More information at www.greenmedford.org.
- Submitted by Susan Altman, Green Medford