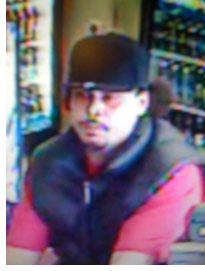 Man Sought in Connection with Gas Station Robbery
Medford Police are looking for a suspect they say robbed a gas station at gunpoint on Tuesday afternoon.
According to police, the suspect robbed the Sunoco Gas Station at 470 Riverside Avenue armed with a small black pistol.
The suspect is described as an Hispanic male in his 20's who is about 5'6″ with "black Afro-type hair." He has a a mustache along with a small growth of hair under his bottom lip and a small beard on his chin. He was wearing a black baseball cap, a black nylon winter vest, and a red short-sleeved shirt.
Police have a pretty clear surveillance photo of the man and anyone who can identify the person in this photo is asked to call the Medford Police at 781-395-1212 or the Medford Police Investigative Services Unit at 781-391-6405.
- InsideMedford.com