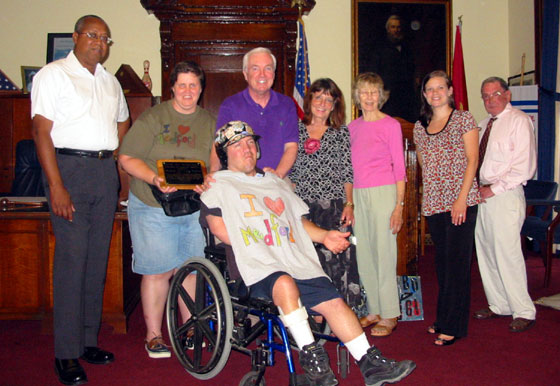 Outside the Lines Studio, an arts-based alternative day program collectively run by artists for individuals with developmental and physical disabilities, received the 2010 Disability Awareness Award. Pictured, left to right: Henry Milorin, Outside the Lines recipients Deidra Comeau and George Russo, Mayor Michael McGlynn, Marie Cassidy, Charlotte Swartz, City Councilor Breanna Lungo-Koehn, and Barry Knamm. Photo courtesy Diane Mcleod.
The Medford Commission for Persons with Disabilities, together with the Medford Human Rights Commission, is holding its eleventh annual Disability Awareness Awards. Please feel free to nominate individuals or businesses that have been proactive in addressing disability issues in our community, being a volunteer, and/or addressing physical or emotional disability needs.
Nominations will be accepted through May 20, 2011 and the award ceremony will be held in June.
Nomination forms are available in Room 214 of City Hall, the Medford Public Library, can be requested at dmcleod@medford.org, or can be downloaded here. If you have any questions, please contact Diane at (781) 393-2501.
- Information from Diane McLeod, Medford Diversity Department Director