State Footing Bill for LoConte Rink Improvements
|
It might be August but work is being done to make LoConte Rink sparkle for the upcoming winter season. With an agreement in place for Medford to take care of the rink rather than the state Department of Conservation and Recreation (DCR), the state will foot the bill for around $400,000 in improvements to the rink.
It all started with a request for their own locker room from the successful, ever-growing Lady Mustang ice hockey team, and in addition to new locker rooms for the boys and girls team, the rink will receive new glass, boards, video cameras, and increased handicapped accessibility. The improvements will benefit not only the Mustang ice hockey teams, but also the youth hockey and figure skating program.
The new and improved LoConte Rink will open to the public in early October.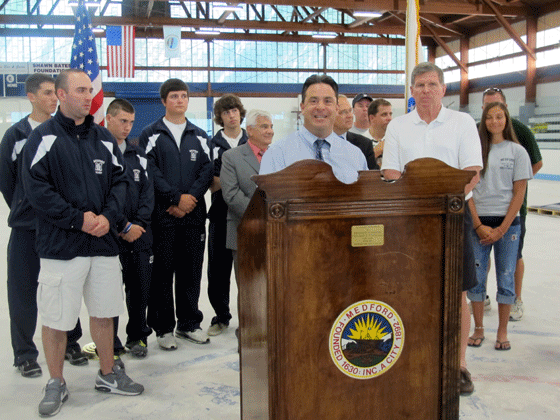 Medford Boys Varsity Hockey Coach Steve DeBenedictis (center) said "it will be nice to have a new rink in the same building," while Girls Varsity Hockey Coach Dave McCarthy (right) said the community will be "pleasantly surprised" by the changes to the rink and "you don't have to be a hockey player to appreciate this facility."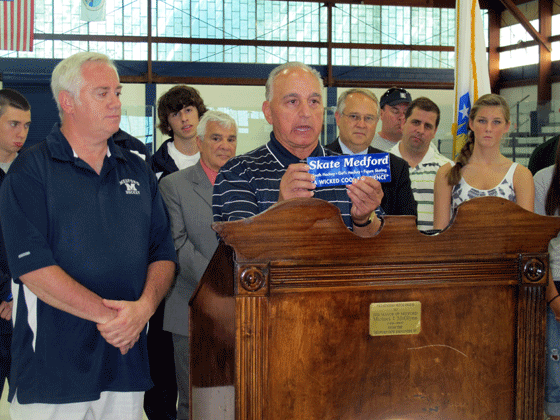 Tony Bova and Frank Zizzo spoke on behalf of the youth hockey and figure skating program in Medford.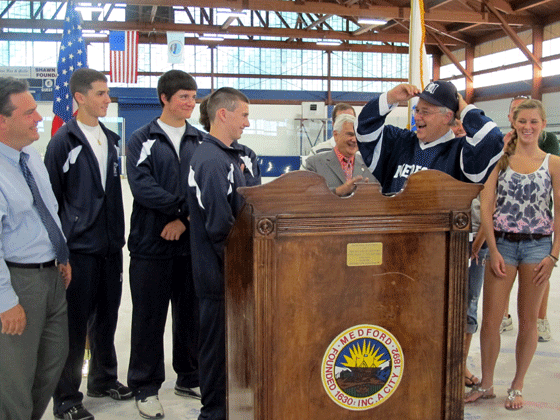 DCR Commissioner Edward Lambert received Mustang gear from boys and girls ice hockey captains Brian Enos, Tyler Zizzo, Jonathan Nazzaro, Jimmy Cecchioni, Shannon Hussey, and Adrienne Porrazzo.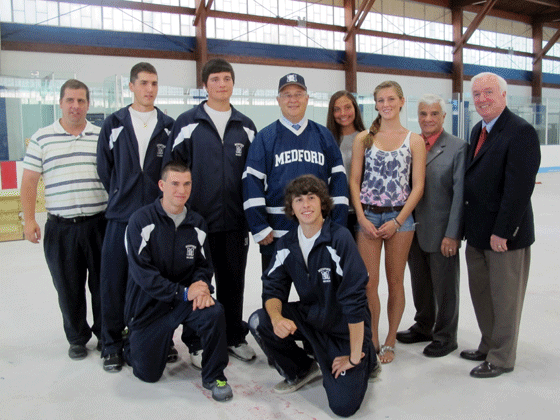 Commissioner Lambert with Medford Mayor Michael McGlynn, State Representative Paul Donato, School Committee member Bill O'Keefe, and the boys and girls ice hockey captains.
– Information from Medford Public Schools