Last Green Up Clean Up of the Summer at Tufts Park
|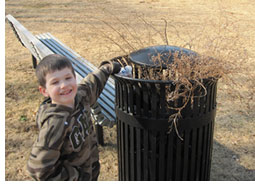 Medford has seen an unprecedented number of community park cleanups this spring and summer and 7 of them were part of Grace Episcopal Church's Green Up Clean Up Program. Through this program approximately 190 volunteers helped clean up Carr Park, Brooks Estate, Wrights Pond, Playstead Park, Barry Park, Roberts School Yard and Cummings Park. This year, in addition to working with local community members and the City of Medford's Park Department, Grace Church members collaborated with Medford Brownie Troop 65007 and Medford's JV Baseball Team on some of their cleanups. One cleanup was completely organized by a Roberts School 3rd Grader and another was done in collaboration with a memorial tree planting for long time Medford resident and employee, Richard Lee.
This Saturday, August 27th, the final Green Up Clean Up of the season is being organized in conjunction with Tufts University. Incoming Tufts University Freshmen will volunteer with Medford residents to do an end of summer cleaning and sprucing at Tufts Park.
Please join us Saturday in picking up trash, sweeping sand and other activities to make Tufts Park a nicer place for our children to play.
Tufts Park, Saturday August 27th, 9am-noon.
Meet near the picnic tables and bring garden supplies (i.e.: gloves, hedge trimmers) if you can.
Find more information about the Green Up Clean Up program, and join the mailing list for notifications of futures events at http://gracemedford.org/greenupcleanup/.
– Submitted by Alicia Hunt