Hurricane Irene Expected to Bring High Winds, Heavy Rain to Area Sunday
|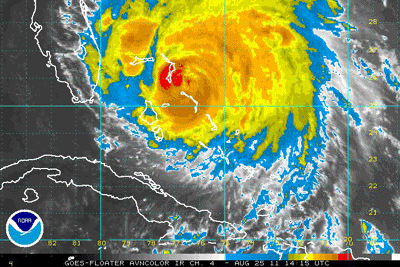 – Allison Goldsberry
A strong hurricane is currently churning its way up the East coast and is forecast to bring strong winds and heavy rain to the area on Sunday, according to the National Weather Service.
Hurricane Irene has battered the Bahamas as a Category 3 storm and forecast models have it weakening as it travels up the coast. However, at this time it's still expected to have a significant impact on Southern New England.
"Hurricane Irene will likely have a significant impact across Southern New England this weekend…but the track and exact hazards remain highly uncertain," said a statement from the National Weather Service.
The latest forecasts indicate Irene will at least bring tropical storm conditions to Massachusetts on Sunday if she tracks as expected up the coast. Heavy rain and inland flooding are possible, especially west of the storm. "Very strong damaging wind gusts" and significant coastal flooding are also anticipated, especially along the south coast of the state. The National Weather Service even warns of an "isolated weak tornado or two" possible on the north and east sides of Irene.
Seas are expected to build as early as Friday and high surf and dangerous rip currents are anticipated into early next week as a result of the storm.
Medford Board of Health Director Karen Rose recommends residents follow guidelines suggested by the CDC for preparing for a hurricane. The guidelines include stocking up on things like bottled water and non-perishable food and supplies such as batteries. More information can be found online.
Hurricane Irene's exact track and landfall are still not predicated with 100% certainty, so people are encouraged to tune into the latest weather forecasts to stay informed.
The last time a significant hurricane hit Massachusetts was Hurricane Bob (a category 2 storm) in 1991.