Youth Hockey Team Basks in Stanley Cup Glory
|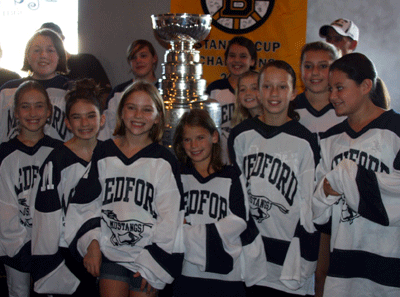 What a fantastic and inspiring way to kick off the hockey season!
The Medford U12 Girls hockey team, with Coaches Fran Hardy and Dom Vigliotte, recently were invited to a Stanley Cup viewing that took place at Raso's Grille and Pizzeria on Mystic Avenue in Medford.
The team would like to thank Mia Raso and her family for the invitation.
The Stanley Cup will be back in Medford on Thursday, October 20 from 3-5PM at LoConte Rink. Medford native Dale Hamilton-Powers, Director of Administration for the Boston Bruins, is bringing the cup to her hometown. A $20 donation will allow for taking a picture with the Stanley Cup, with proceeds going to Medford Youth Hockey and the Pancreatic Cancer Research Center at Massachusetts General Hospital.
– InsideMedford.com