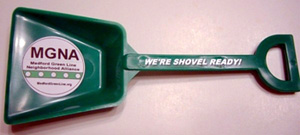 Are you tired of the latest delay in the Green Line Extension project, which was supposed to extend service to Medford Hillside by 2011…then 2014…then 2015…and now, maybe, 2019?
Join the Medford Green Line Neighborhood Alliance and 11 other organizations in showing your support for the Green Line Extension project and your opposition to the latest schedule delay recently announced by MassDOT.
Join our neighbors from Somerville, Cambridge, Arlington in a Mock Groundbreaking Rally at 6 p.m. Thursday, October 20, in front of Somerville High
School, 81 Highland Avenue.
Somerville Mayor Joseph Curtatone and other representatives from throughout the region will bring shovels to help convey the message that supporters of the
project are "shovel ready" for construction to begin without further delay.
Immediately after the rally, continue making your voice heard inside the Somerville High School Auditorium, where a public hearing will take place at
6:30 p.m. on the Green Line Extension Environmental Assessment.
At the hearing, MassDOT officials also are inviting suggestions on air pollution mitigation projects the state is required to implement on Dec. 31, 2014, as a
penalty for missing the legal deadline for extending Green Line service to Medford Hillside.
A flyer for the Mock Groundbreaking is attached. Share it with your friends, and please join us Thursday evening at Somerville High School!
For information on the Environmental Assessment hearing, visit the Green Line Extension project website, www.greenlineextension.org.
- Information from Medford Green Line Neighborhood Alliance (MGNA)