Girls Soccer Team Enjoys Successful Season
|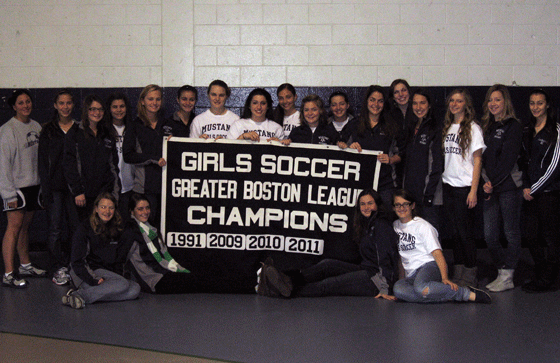 Seated (left to right): Nicole Avella, Katherine Timmins, Olivia Allison & Ali deRosas. Standing (left to right): Coach Perry, Reyna Gontaruk, Korey O'Rourke, Kly Goncalves, Jamie deRosas (captain), Julia LaRocca, Emily Welch (Captain), Jackie Pellecchia (captain), Adrienne Porrazzo, Amanda Goguen (captain), Hailey Massa, Olivia Timmins (captain), Lauren Walsh, Michaela Mitrano, Cassidy Lebert, Cassie Greene & Alessia LaRocca. Missing from picture: Sophie Karon, Regine Jacques & Sam Lopilato. Courtesy photo.
The Medford High girls varsity soccer team had another banner year, winning the Greater Boston League title for the third year in a row and making it to the quarterfinal round of the state tournament. The Mustangs' final record was 13-5-1 with 59 goals scored on the season and only 14 goals scored against the team.
GBL All-Stars
1st team: GBL MVP Olivia Timmins, Katherine Timmins, Olivia Allison, Alessia LaRocca & Jackie Pellecchia.
2nd team: Emily Welch, Regine Jacques & Korey O'Rourke
"I am honored to have coached these girls this season, they gave everything they had and continue to improve each year! I am really looking forward to another great year in 2012!!" Said Head Coach Rachel Perry.
"The Medford High School soccer program has grown so much over the past three years. We have three teams in the program with 53 girls playing. I am so proud of all we have accomplished this season, but success isn't only measured in wins and losses and league championships; but in being confident young women who have character and values in the classroom, on the field and in life. Part of the girls soccer program includes participating in community service projects. This year our players worked the Medford Kiwanis jail day, the Granara Skerry pancreatic cancer walk/run, and the Medford Fit for Life run," said Coach Perry.
According to Coach Perry, being a part of an athletic team teaches us to work hard in whatever we do, to always give our best effort, and to never give up. As coaches we preach that our players are student-athletes and class work must come first. Each player is also required to complete progress reports during the season. Not only have the girls in the soccer program been successful on the field, but also in the classroom.
30 girls in the program were named to the honor roll for the first quarter:
Alison deRosas
Adrienne Porrazzo
Olivia Allison
Nicole Avella
Reyna Gontaruk
Regine Jacques
Cassidy LeBert
Julia Mitrano
Fatuma Mohamed
Charlotte Morse
Korey O'Rourke Crowley
Susan Smith
Lauren Walsh
Jamie deRosas
Rebecca DiTucci
Hannah Gallup
Amanda Goguen
Cassandra Greene
Kelly Harvey
Patricia Healion
Sophie Karon
Giulia LaRocca
Bailey Lee
Samantha Lopilato
Hailey Massa
Michaela Mitrano
Jacqueline Pellecchia
Casey Smith
Olivia Timmins
Emily Welch
– Information from Coach Perry