Boys Basketball Team Opens Season with Win
|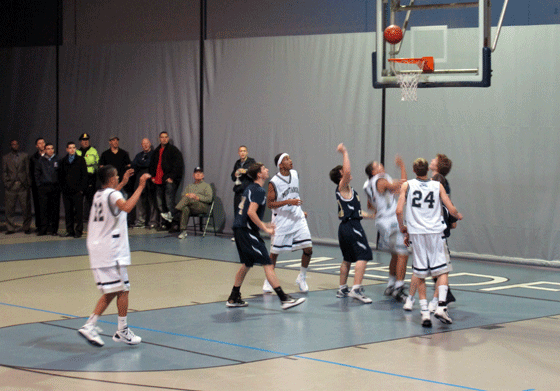 Maurice Magras and Sean Doncaster came up big for the Mustangs Monday night.
The boys varsity basketball team opened up the season with a 50-48 home victory over Billerica on Monday night.
Senior guard Maurice Magras led the Mustangs with seventeen points while junior guard Sean Doncaster added eleven points. Doncaster also contributed defensively for Medford, as he had the assignment of covering standout Pat Bradanese of Billerica.
"He did a great job on him," said Head Coach Anthony Faradie.
Coach Faradie said the victory was a "great team win" with solid defensive effort. Even though Billerica opened up the game with an 8-0 lead and Medford was down 24-21 at the half, Medford never gave up and stayed focused on earning the W.
"I felt like we looked like a veteran ball club out there. We battled back, got the lead and protected it. We made some big plays down the stretch," said Coach Faradie.
Medford hosts Hampden Charter School on Wednesday at 7:00pm before hitting the road for six straight games. The Mustangs will be back home on Friday, January 20 to face Everett at 7:00pm.
– InsideMedford.com