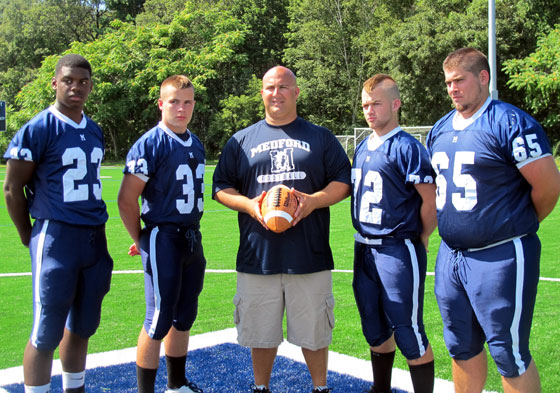 Team captains Nick Olivier, Max Clancy, Chris Bucknam, and Steve Center with Head Coach Rico Dello Iacono.
The Medford Mustang Football team said good-bye to sixteen seniors and recognized some of its key players during its banquet on Sunday at the Irish-American Club in Malden.
The following players were recognized at the banquet:
$500 David Castagnetti Scholarship Award
Steve Center
Once a Mustang Always a Mustang $500 Essay Winner
Greg Johnson
Jim Lyons Scholarship Award
Dan Costello
Thanksgiving Game MVP
Steve Moran
Thanksgiving Game Defensive Player
Reggie Thelemaque
Thanksgiving Game Offensive Player
Jean Gonclaves
Defensive Player of the Year
Jeff Fargo
Offensive Player of the Year
Nick Olivier
Ron Zampell Blue and White Spirit Award
Max Clancy
Team MVP
Nate Clemente
Coaches' Awards
Stephen White
Reginald Fleurival
Special Teams Award
Dan Costello
Most Improved Player
Greg Johnson
12th Player Award
John Petrella
Unsung Hero
Adam Spencer
Linemen of the Year
Chris Bucknam
Steve Center
Seniors
Nick Olivier (captain), Chris Bucknam (captain), Steve Center (captain), Max Clancy (captain), John McGreevey, John Petrella, Stephen White, Adam Spencer, Mike Pizzi, Greg Johnson, DeStephanos Marcellus, Dan Costello, Reginald Fleurival, Nicholas St. Jean, Steve Moran, and Abe Bencid Sanchez.
2012 captains
Captains for next season were voted for by team members. Jeff Fargo, Nate Clemente, Marc Marino, and Lucas Mazzotti will lead the Mustangs as senior captains next season.
- InsideMedford.com