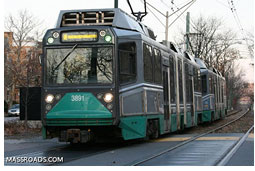 Photo by Alexander Svirsky, MassRoads.com.
A public meeting will be held on Wednesday, January 25 to present information on bridge reconstruction and property demolition to make way for the Green Line extension.
The Harvard Street Rail Bridge in Medford and the Medford Street Rail Bridge in Somerville will both be widened while MBTA-owned property at 21 Water Street in Cambridge will demolished, according to information released by the Green Line Extension project team.
The meeting will be held from 6:00-8:00PM in the Somerville High School auditorium (81 Highland Avenue). The high school can be reached via MBTA bus routes 88 and 90 and parking is available at the school and on Highland Avenue or adjacent streets. Accessible parking is available next to the building. For language or access accommodations, please contact Beverley Johnson at (617) 438-2767 or bjohnson@bevcoassociates.comcastbiz.net at least one week before the event.
More information about the project is available on the Green Line Extension website, http://www.greenlineextension.org.
- InsideMedford.com