Medford Girl to be Featured in Time Magazine
|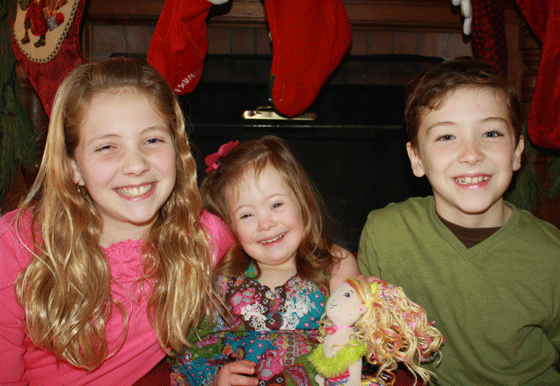 Gracie (center) with her sister Ryleigh and brother Aiden. Courtesy photo.
– Allison Goldsberry
Four-year-old Medford resident Grace McLaughlin will grace the pages of TIME magazine on Friday, February 17 in a special story that discusses the tough choices parents face when they learn through a prenatal diagnosis that a child will be born with Down Syndrome.
"The story offers an important opportunity for people to understand that there are new prenatal frontiers and while the prenatal test for Down Syndrome is the first prenatal test being offered to all pregnant women, it certainly won't be the last. And I think that raises very important questions – questions that I don't presume to answer but ones I think we, as a society, should be asking," said Grace's mother, Melanie McLaughlin.
McLaughlin, a parent volunteer with the Mass Down Syndrome Congress' First Call parent program, said Grace's story was also featured by ABC News last year. The TIME magazine feature coming out on February 17 actually grew out of a story posted online in November for TIME's Healthland website. The magazine piece will expand on the story and will include more photos.
Grace is no stranger to the camera and endured the two hour photo shoot with, well, grace!
"I think she had had it after two hours but, in general, she is used to being in front of the camera," said McLaughlin.