Senate Passes Sen. Jehlen's Animal Control Bill
On Thursday, March 22, the Senate passed An Act Further Regulating Municipal Animal Control. This bill, sponsored by Senator Patricia Jehlen (D-Somerville), updates and modernizes the animal control laws in the Commonwealth, some of which date back to the 1800s.
"This is an important piece of legislation that will go a long way toward strengthening and improving animal control laws in the Commonwealth," said Senator Jehlen. "The current laws are so out of date that they reference jobs that no longer exist. This bill will help municipalities deal with the problems they face today. Furthermore, it manages to modernize and improve animal control without raising fees or taxes."
"For years, organizations, individuals, and legislators have been seeking a comprehensive revision of Chapter 140, relating to animals; S. 2184 is the result of years of stakeholder discussions," said Kara Holmquist, Director of Advocacy at the MSPCA. "We are thrilled to see this important bill moving forward and believe it will make important progress to protect both animals and the public."
The legislation strengthens dog ordinances without targeting specific breeds, increases training for local animal control officials, creates a statewide spay/neuter program designed to reduce the number of homeless animals, and prohibits certain inhumane methods of euthanasia for cats and dogs. An amendment that would allow for pets to be included in domestic abuse orders, which will protect animals and allows for victims of abuse to leave their partners without risking further injury to their pets, was also approved.
This legislation will now be sent to the House of Representatives for further action.
Gov. Patrick Signs Supportive Housing Bill into Law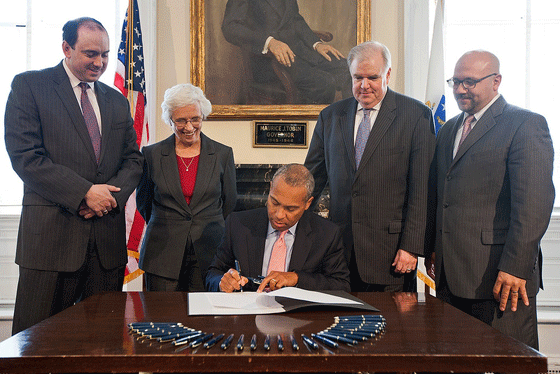 Gov. Patrick is pictured with State Senator Pat Jehlen signing the Supportive Housing bill into law. Pictured: Sen. Jamie Eldridge (D-Acton), Sen. Jehlen, Gov. Patrick, Rep. Kevin Honan (D-Brighton), and Rep. Jeffrey Sanchez (D-Jamaica Plain). Photo by Eric Haynes/Governor's Office.
Governor Deval Patrick recently signed Sen. Jehlen's Supportive Housing bill into law.
This legislation will lead to the development of up to 1,000 units of supportive housing in Massachusetts over the next three years, said Daniel Smith, Communications Director and Deputy Counsel for Sen. Jehlen.
According to Smith, supportive housing is defined as affordable housing linked with supportive services designed to help tenants with modest incomes maintain housing stability and maximize their independence. Smith said it is a national best practice to end homelessness and "is critical to enabling persons with disabilities and seniors with service needs to live independently in the community."
- Information from State Senator Pat Jehlen (D-Somerville, Medford)