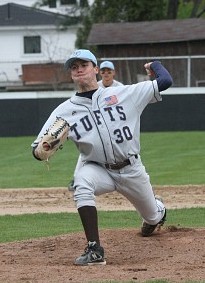 Medford Native Senior Pitcher for Jumbos
Medford native and Tuft University senior pitcher Kevin Gilchrist tossed a no-hitter in his team's 4-0 home victory over UMass-Dartmouth on Monday afternoon, according to information posted on Tufts' athletics news website.
The no-hitter is Tufts' first since 2003 when Jon Lee threw a no-hitter against Bates.
Gilchrist walked two, hit a batter, and struck out four en route to his perfect game.
Gilchrist, a left-handed pitcher out of Malden Catholic, improved his record to 3-2 on the season.
The no-hitter was the first game in a double-header. Tufts also went on to defeat UMass-Dartmouth 9-1 in the second game.
- InsideMedford.com