Mustang Baseball Blanks Woburn, 5-0
|
– Allison Goldsberry
The boys varsity baseball team earned a 5-0 road victory over Woburn on Saturday afternoon.
Junior captain John Lavoie pitched a complete game, striking out nine while allowing five hits and walking four.
"John continues to be the leader of this pitching staff and giving the team a chance to win whenever he's on the mound. John has to be one of the smartest pitchers in this state with his mix of pitches and command of strike zone. Today proved that if we play errorless baseball we can play with anyone in Division 1," said Head Coach Mike Nestor.
Offensively, junior captain Chris Hayes led the team with two RBI's. Junior Mike Koury "continues to carry this team," hitting over .400 and "adjusting to his new spot at lead off man." Sophomore Dave Center "also continues to get on base with his hard-hitting bat at the top of the lineup," said Coach Nestor. Defensively, junior catcher Jake Porrazzo provides "solid defense" behind home plate and calls a "strong game."
Coach Nestor is pleased with the hard work and effort of his team.
"The Medford Mustangs are beginning to turn around their luck with hardworking effort and great teammates picking each other up during their rough vacation stretch. We continue to keep working leading up to next week's key GBL match with Somerville," said Coach Nestor.
Medford is on the road for the next three games, visiting Somerville on Tuesday, April 24, Austin Prep on Wednesday, April 25, and Cambridge on Thursday, April 26. They are back home against Everett on Tuesday, May 1.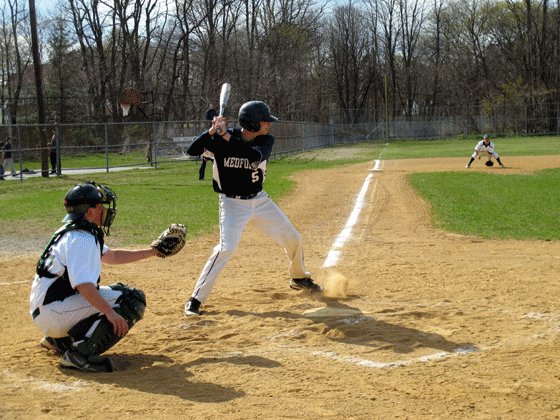 Junior captain John Lavoie, shown above batting against Matignon at the home opener, continues to be strong on the mound for his team.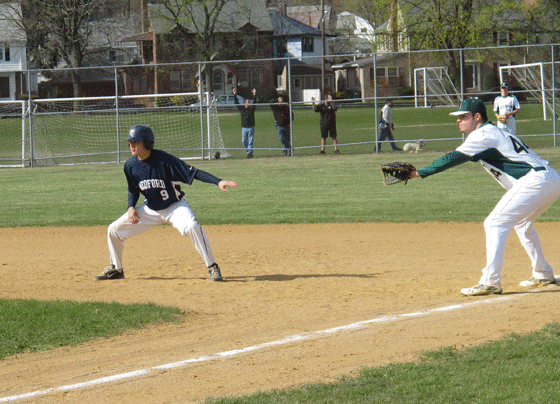 Sophomore Dave Center manages to get on base when it counts.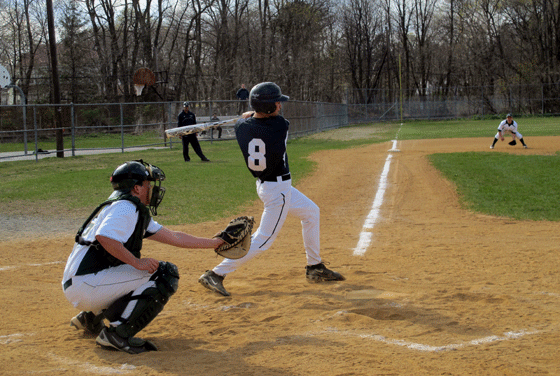 Junior Mike Koury is a strong lead-off hitter for the Mustangs.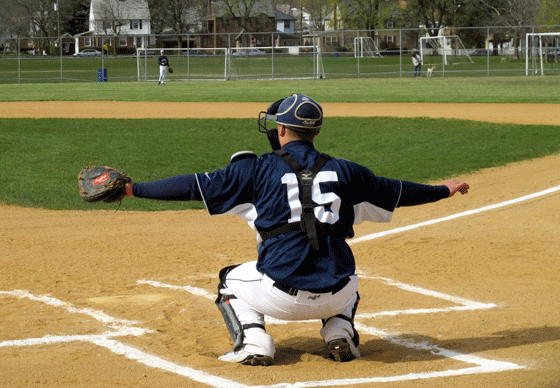 Junior catcher Jake Porrazzo helps keep the team on track behind home plate.