Baseball Team Earns GBL Win Over Cambridge
|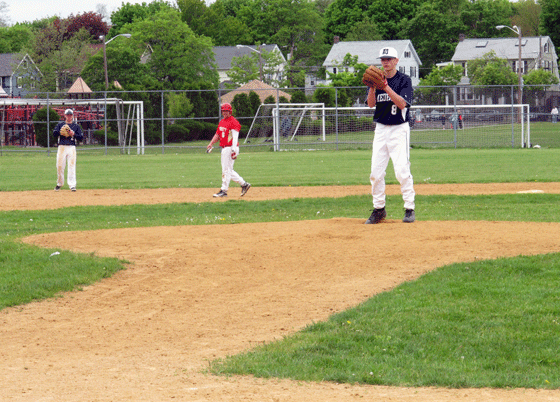 Junior captain John Lavoie on the mound for the Mustangs (photo from last season).
– Allison Goldsberry
The boys varsity baseball team sandwiched a loss to Austin Prep with two GBL wins this week over Somerville and Cambridge.
After a lopsided 16-0 road victory over Somerville on Tuesday, the Mustangs defeated Cambridge in enemy territory 4-1 on Thursday afternoon.
Junior captain John Lavoie tossed a complete game, allowing only four hits and striking out ten.
Junior Nick Rocco was 2-4 with an RBI and run scored, sophomore David Center contributed two RBI's, and junior Mike Koury scored two runs for the Mustangs.
Medford is 2-1 in the GBL heading into its league showdown with Everett on Tuesday. The Mustangs host the Crimson Tide, the defending league champion, at 4:00PM at Playstead Park. They head to Malden on Thursday, May 3 for another league match-up.