Girls Lax in Hunt for 4th Straight GBL Title
|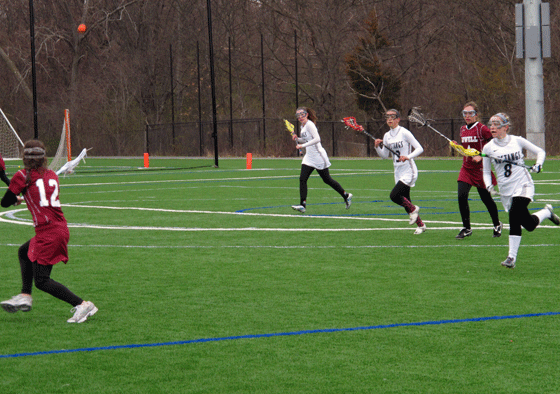 – Allison Goldsberry
With wins over Malden and North Reading on Monday and Tuesday, the girls varsity lacrosse team has improved its record to 5-4 and a GBL title and a state tourney bid are next on the agenda.
The Lady Mustangs defeated Malden 12-1 on Monday before a home crowd.
The annual "Pink Out" game was played under the lights at home and was also an opportunity for the team to raise money for the Susan G. Komen Fund for breast cancer research. Last year about $2,000 was raised and Coach Galusi hopes this year will be just as successful.
Galusi credits goalie Rachel Keene for doing an "unbelievable job in net" for the Mustangs. Also, "hands down, the best goal of the night" was one scored by Jolene McGlynn off of a "beautiful" assist from senior captain and defender Jamie deRosas.
Olivia Timmins led the team with four goals while Katherine Timmins added three. McGlynn had two goals and Danielle Mason, Lydia Regan, and Miranda Arena each added a goal.
The win comes following a tough loss down in Nauset, an experience Coach Galusi said helped bring the team together.
"I'm really, really proud of the girls," said Galusi.
On Tuesday the Lady Mustangs toughed it out in the chilly rain to earn an 11-7 home victory over North Reading.
Coach Galusi called the game a "great team win." Medford was down by a couple of goals at the half and it was encouraging words from their coach that helped them fight back.
"I just told the girls, 'believe in yourself, do what you do best.' We settled things down, we took care of business," said Coach Galusi.
Katherine Timmins led the team with four goals while Olivia Timmins and Sophie Caron each added three. Jaime Traverse scored her first goal of the season.
"Brianna Hughes, Jamie and Allie deRosas, and Adrienne Porrazzo did a great job locking things down on defense, and when we needed her the most our goalie Rachel Keene made some huge saves," said Coach Galusi.
The Lady Mustangs are 5-4 overall and 2-0 in the GBL. A win over Cambridge on Friday would wrap up the fourth consecutive league title for Medford. The Mustangs are also hoping to qualify for the state tournament.