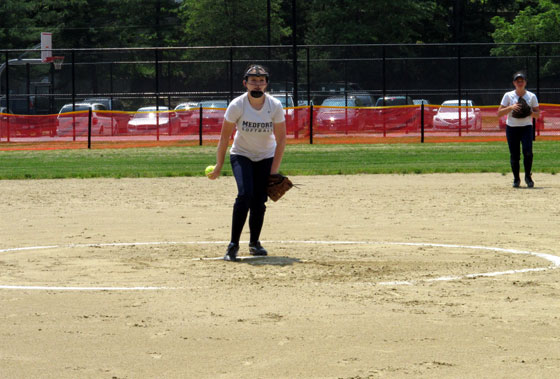 Medford Mustang senior pitcher Rayanne Staude tossed a no-hitter against Somerville last week.
- Allison Goldsberry
Rain and injuries challenged the Medford High softball team this season, but the Lady Mustangs still managed to earn their way into the state tournament by tying Everett for second place in the GBL. Both teams finished with five victories and three losses in the league.
According to Head Coach Jack Dempsey, Medford had a big road victory over Somerville last Friday night. The Mustangs defeated the Highlanders 14-2 behind five perfect innings turned in by senior captain and pitcher Rayanne Staude.
Staude picked up her fifth victory, striking out seven and walking only two batters. The two runs scored by Somerville were unearned. Junior Katie Napier led the hitting attack with three hits, three RBI's, and three runs scored. Senior captains Shannon Hussey and Emily Welch each had a pair of singles along with two runs scored and two RBI's. Senior Breanna Botelho and junior Sam Lopilato each contributed two hits and an RBI while Lopilato also scored two runs. Senior captain Jackie Pellechia walked three times and had a single and two RBI's.
Medford opens the state tournament on Thursday on the road at Chelmsford. Medford, 5-15, is seeded last among twenty-two teams while Chelmsford, 14-6, is seeded eleventh.
Malden, 19-1, received the top seed in North Division 1 and has earned a bye in the preliminary round. Everett, 14-6, is seeded ninth and also earned a bye. Everett faces Framingham on June 2 and could potentially wind up playing Malden in the quarter finals.
In North Division 2, Arlington Catholic, 13-7, is seeded twelfth out of seventeen teams. The Lady Cougars have a bye in the preliminary round and play Amesbury, 16-4, #5, on May 31. Matignon, 12-8, is the sixteenth seed out of twenty-four teams in North Division 3. Matignon hosts #17 East Boston, also 12-8, on May 31. Mystic Valley, 15-5, is the fourth seed in Division 3 and after receiving a bye will host either Tech Boston or Northeast Metro Tech on June 2.
In baseball news, the Mustang baseball team didn't qualify for the postseason. Malden Catholic, 13-7, is seeded ninth out of twenty-three teams in North Division 1. The Lancers have a bye in the preliminary round and head to #8 Chelmsford (14-6) on June 1. Meanwhile, in North Division 3, Arlington Catholic (#7, 13-7) hosts Weston (#10, 11-9) on May 31 at 4PM. In Division 4, Matignon (#3, 14-6) will host either Mystic Valley (#6, 12-8) or Rockport on June 4.