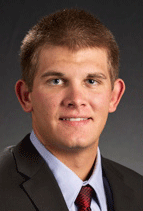 - Allison Goldsberry
Former Medford High School baseball player Ben Waldrip was drafted by the Colorado Rockies in the tenth round of the MLB draft on Tuesday, according to information released by Jacksonville State University.
The 6'6″ 245-lb Waldrip is a 2008 Medford High graduate and is a senior biology major at Jacksonville State.
"I'm excited to have the opportunity to continue by baseball career," Waldrip said in a statement. "Coors Field is a great hitters park and Colorado is a great organization and I'm looking forward to my future with the Rockies."
Waldrip belted 18 home runs and drove in 61 RBI's to lead his team in 2012, and he finished the season batting .330 on the year. Last summer he finished second in the Cape Cod League for home runs.
Waldrip was also drafted after his junior season in 2011 (40th round/Kansas City) and also in 2010 (42nd round/Atlanta).
At Medford High Waldrip was a four-year starter for the Mustangs and he captained the team his junior and senior years. He was a 3-time Greater Boston League All-Star and had a .428 batting average when the GBL was still a wood bat league.
"Ben Waldip has always been a consumate professional in the classroom, on the ball field, and in the community. He is a role model for the young players of Medford, proving that if you work hard and go about things the right way, good things will ultimately happen. I congratulate Ben and his family. I wish him the best of luck in his pursuit of the ultimate boyhood dream, making it to the big leagues," said Medford High History teacher Nick Tucci, Waldrip's former baseball coach.