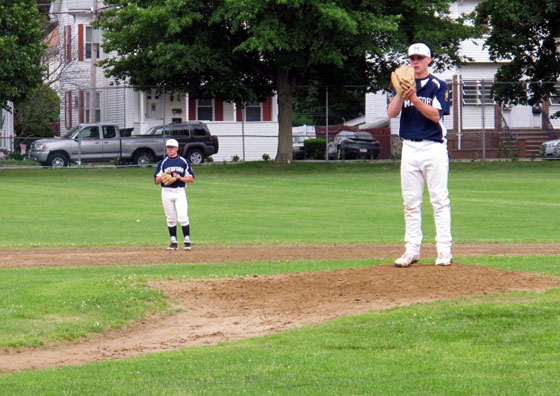 Malden Catholic grad Paul Covelle, shown pitching in a Legion game last season, led his team to victory over Tyngsboro on Monday.
- Allison Goldsberry
On Monday the Medford Post 45 American Legion baseball team handily defeated Tyngsboro 13-4 at Playstead Park.
Paul Covelle, who graduated from Malden Catholic this spring, got the win on the mound for Medford, pitching four innings and allowing only two hits and no runs while striking out six. He was also 3-4 with a home run, three RBI's, and two runs scored.
Dave Center (Medford High School) was 2-4 with an RBI and three runs scored while Jake Porrazzo (MHS) was 3-4 with a run scored, according to Head Coach Ryan Kozul.
MHS freshmen Andrew Cronin and Dom Ramasci also collected their first Legion hits.
The team, now 3-1, is on the road at Alumni Field in Lowell on Thursday for a 7:00PM game against the 2011 state runner-up Lowell.