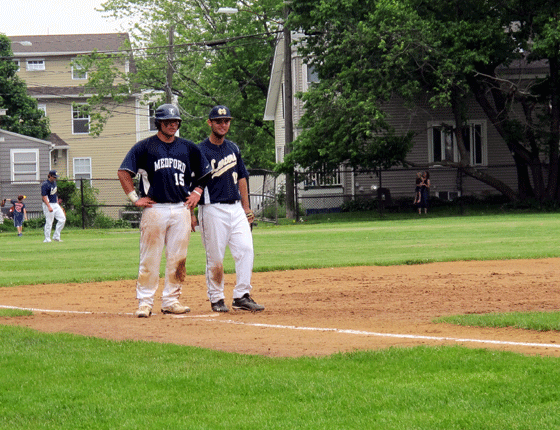 Medford High's Jake Porrazzo, shown above (left) in a Medford/MC game last season, scored the Legion baseball team's winning RBI.
- Allison Goldsberry
The Medford Post 45 American Legion baseball team earned a big come-from-behind victory over Chelmsford at Playstead Park on Wednesday.
According to Coach Ryan Kozul, the team was down 3-0 before scoring four runs in the fifth inning and three runs in the sixth. Jake Porrazzo (Medford High) scored the winning RBI on a sac fly. Fellow Mustangs Mike Koury and Mike Pizzi also helped bring the team to victory, with Koury 1-1 with a run scored and Pizzi scoring a run and making a "spectacular" diving catch in centerfield. Medford's Kevin Andrew had a key sacrifice bunt that helped his team add three insurance runs in the sixth inning.
Malden Catholic grad Paul Covelle got the win on the mound. He pitched five innings, giving up six hits and two earned runs while striking out six. He also had a double, RBI and run scored to help out the offense. Dave Center (Medford High) "stepped up big in relief" of Covelle, said Coach Kozul. Center pitched two scoreless innings and "helped start a terrific double play to preserve a 4-3 lead in the sixth inning."
Center was also 2-3 with an RBI and two runs scored.
The team is now 4-3 heading into Friday's 5:45PM home game against first place Billerica.