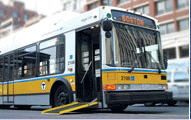 - Allison Goldsberry
Fare hikes and service cuts put into place to help the MBTA close an anticipated $185 budget deficit will begin on Sunday, July 1.
What that will mean for T riders is a 23% average increase in fares and a cut in some trains and bus lines.
The fare increase will generate $72.9 million. The cost to ride the bus will increase from $1.25 t o $1.50 while riding the subway will increase from $1.70 to $2.00 for CharlieCard users. CharlieTicket users will see fares increase from $2.00 to $2.50 for a single ride. For seniors and students bus fare will increase to 75 cents and subway fare will rise to $1.00. Additional fare increase information is posted on the MBTA website.
The MBTA says it has preserved more than 99% of its service. The cuts include the elimination of four weekday bus routes, revised routes for fourteen buses, and some reductions in service for the Quincy ferry, Green Line E branch, and the commuter rail south of Boston.
Medford would keep all of its existing bus service except for two routes. The private carrier bus program (Route 710) and Route 355 would be eliminated.
In April, Medford resident and Acting MBTA General Manager Jonathan Davis said the plan was created with public input gathered at dozens of meetings held over the past few months.
"At the dozens of public meetings on the original proposals, I heard our customers speak eloquently and passionately about the important role the MBTA plays in their lives," said Davis. "In response, we have developed a plan that demonstrates our strong commitment to continue providing transit services that are reliable, convenient, and affordable."
While the T points out its fares are still lower than many major cities, agencies like the Metropolitan Area Planning Council (MAPC) say the fare hike is still "very steep" and the state legislature should "pass a long-term solution to the state's underfunded transportation system."
"The MBTA has done an excellent job in continuing to find efficiencies and cut costs. They have responded to an overwhelming level of public input on the earlier proposals by minimizing service cuts," said Marc Draisen, Executive Director of MAPC. "However, the 23 percent fare increase proposed today is still a significant increase. It will cut daily ridership by over 5 percent at a time when we should be encouraging more people to use public transit. The fare hike will be a serious hit for people with disabilities who use The Ride frequently.
"Riders have been asked to bear the burden of nearly half of this budget deficit, even though that deficit arose in large part because the Commonwealth insisted the T pay for projects associated with the Big Dig," Draisen said.