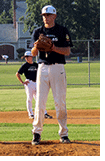 Medford High School baseball players Jake Porrazzo (catcher) and John Lavoie (pitcher) will play baseball in the annual Bay State games.
The rising seniors, who currently play summer ball for American Legion Post 45, will be a part of the Metro team.
The baseball competition kicks off on Monday, July 9 and runs through Friday, July 13. All games are taking place at Bentley University in Waltham.
The Metro team faces the Southeast team at 9:00AM on Monday. A full schedule is available online.
MHS Head Baseball coach Mike Nestor is proud of Lavoie and Porrazzo.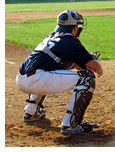 "John continues to work harder than anyone else in the area trying to take his game to the next level. John recently has been selected to play in the Lynn Invitational which is a invite only showcase for high school players in Massachusetts. I'll be looking for exciting season next year with John returning again as our ace," said Coach Nestor. "Jake is one of the fiercest competitors I have coached. When Jake came back from MC he had to learn a new system and did so with ease. Jake gets high accolades from coaches in the area due to his hard work and the way he carries himself during a game. Having him behind the plate for another year really helps, especially with our quality pitching staff."
Medford resident and Arlington Catholic student Mark Fusco will also be a part of the Metro team, according to a roster posted online.
- InsideMedford.com