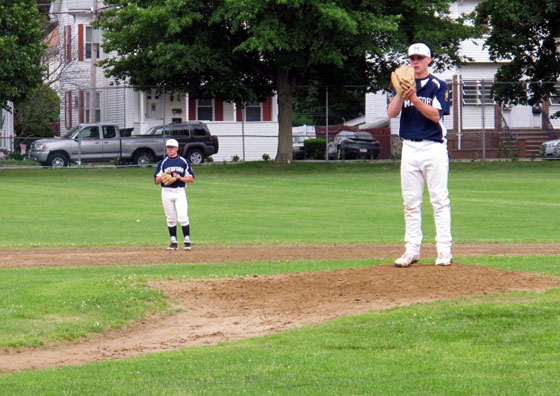 MC graduate Paul Covelle had a strong performance on the mound for the Legion Baseball team.
- Allison Goldsberry
On Wednesday night the American Legion Post 45 baseball team suffered a heart-breaker of a loss at Sudbury.
According to Coach Ryan Kozul, the game was tied 1-1 in the bottom of the sixth before Sudbury got a ground ball single through a drawn-in infield that scored the eventual winning runs. Sudbury ended up winning 5-2.
Malden Catholic graduate Paul Covelle pitched a complete game for Medford, allowing two earned runs and only three hits while striking out six.
"He was excellent all night and he showed why he is going to Franklin Pierce in the fall," said Coach Kozul.
Mike Pizzi (Medford High School) was 2-3 with two runs scored, Jon Byrne (Arlington Catholic) was 2-3, and John Lavoie (Medford High School) had an RBI single.
Despite the loss Kozul was proud of how the team played.
"While it was extremely frustrating to lose in such a heartbreaking fashion, I am happy that we were able to show what Medford baseball is all about," said Coach Kozul. "Sudbury, 12-2, has been one of the top teams in the entire state for over a decade, and they have already earned a spot in the Massachusetts Elite Eight Tournament next week. Our effort really shows how far this program has come over the last two years with the help of a dedicated group of returning players- Paul Covelle, John Lavoie, and Mike Pizzi in particular. I hope this game is a sign of even bigger things to come in the future. We are looking forward to finishing strong and making a run in the Chairman's Cup playoffs."
Medford is on the road this weekend for a game in Hudson at noon on Saturday and a game in Watertown at 10:30AM on Sunday. The team returns home to Playstead Park for a 5:45PM game against Lexington.